Environmental seminars, forums, education, networking and social opportunities in New Jersey, Pennsylvania, New York & Delaware
April 15-16, 2013
SWANA Spring Conference: Solid Waste
Industry's
Reaction to Superstorm Sandy
and Waste Flow Control and Innovation Updates
Tropicana Casino and Resort
2831 Boardwalk
Atlantic City, NJ 08401
Seminar topics include: the effects, reactions and cleanup of Superstorm Sandy. The newest regarding Waste Flow Control, industry innovation, and the Regulator's perspectives. Speaker's from the U.S. Army National Guard, EPA, FEMA and the NJDEP. Join the special panel session to report to the NJDEP how you think they did with their handling and support of the Superstorm Sandy Event.
Following the conference on Tuesday will be a "Green Initiatives tour" which will visit various facilities within Atlantic County.
Rooms available starting at $65.00+taxes. Reservations must be made by March 25, 2013 to take advantage of this special offer. Please call (800) 247-8767 and mention "SWANA NJ CHAPTER" to receive this discounted offer. For more information, please contact:Kate Robert (609) 465-9026 or robertka@cmcmua.com
------------------------------------------------------------------------------------------------------------------------
How you can help us to grow...

1. Sign up for free email updates (using the easy form in the top- right corner
2. Forward the calendar to your friends and colleagues. For help, click on Tell-A-Friend in the lower-right column
3. Mention us on Facebook or in your next tweet
-------------------------------------------------------------------------------------------------------------------------
April 16, 2013

A Rose By Any Other Name...Identifying Rosaceae
A PSI Master Class
9:30 a.m. to 12:30 p.m.
Bowman's Hill Wildflower Preserve
1635 River Road
New Hope, PA 18938
Instructor:
Dr. Ann Fowler Rhoads
In the Pennsylvania flora the Rose Family is made up of 28 genera (144 species) of woody and herbaceous plants. Growth form ranges from canopy trees in the forest to common wildflowers of fields and woods. Flower and fruit form vary primarily by the degree of fusion in the ovary and its placement with respect to other flower parts. In PA the family includes 1 federally listed threatened species and 18 that are tracked by the Pennsylvania Natural Heritage Program.
While species identification in many Rosaceae genera is straightforward, others including the shadbushes and hawthorns provide an ongoing challenge because of the processes such as apomixus (seed production without sex).
The Rose Family is important to wildlife through the processes of pollination and seed dispersal. It also includes important fruit and ornamental crops.
We will try to understand what holds the family together as well as the characteristics that allow us to recognize individual genera and species.
To register, call
215 862 2924
or e-mail Jared Rosenbaum, PSI Coordinator, at
rosenbaum@bhwp.org

April 16, 2013
Horizontal Remediation Wells Improves Site Cleanup Training Workshop
Edison, NJ Area (site to be announced)
Directional Technologies, Inc., the global leader in environmental directional drilling, is scheduling training workshops in 2013. Horizontal Remediation Well technology has improved significantly over the past five years. The training workshops will discuss improvements in Horizontal Directional Drilling technology and how this technology can be applied to improve site cleanup using existing technologies and newer remedial technologies. Please call Mary Powers at (203) 294-9200 or email mpowers@directionaltech.com to reserve a seat. Seats will be limited.
April 16, 2013
7 p.m.
Pinelands Preservation Alliance
Southampton NJ
Bill Young of Young Environmental LLC will highlight the value of native plants in the landscape.

Learn about New Jersey native plants and the role they play supporting wildlife and their broader role as components of the ecosystem

. Mr. Young is a recognized leader in the environmental field with more than 25 years of experience as a project manager, designer, and wetland specialist. His expertise includes habitat restoration on disturbed lands, wetlands monitoring and construction, botanical inventory, wildlife assessment, stream bank restoration; and erosion and sediment control. Mr. Young also performs site assessment and hydrological studies for site selection on wetland mitigation and master planning. Mr. Young is an adjunct professor at the University of Pennsylvania, School of Design. Cost is $10/person. Registration is required because space is limited. Register online or call Tom at 609-859-8860 x 14. Proceeds benefit PPA's education programs.
-------------------------------------------------------------------------------------------------------------------------------
For free publication, send your event information to: editor@enviropolitics.com
-------------------------------------------------------------------------------------------------------------------------------

April 18, 2013
Essential Components of Effective Crisis / Emergency Management Plans


Webinar provided by

AT&T Mobility, CPM

and Security Today
11 a.m.
No matter what the nature or magnitude is of a "Crisis / Emergency" incident, there are key components that must be included in planning and implementation strategies. These essential elements will be identified and their impact on achieving successful outcomes will be demonstrated by reviewing actual case histories from the public and private sectors.
The participant will be able to:
Identify the critical elements that must be included in a crisis / emergency management plan and how these functions are implemented during an incident response;
Describe the three major reasons why organizations fail to properly implement their crisis / emergency management plan during a response;
Conduct a Command & Control audit of their organization's crisis / emergency management plan;
Identify scalability requirements in their organizational structure to be able to properly respond to mass casualty and extended duration incidents, and
List the top three reasons that crisis / emergency plans are not tested and exercised and the solutions that can help correct this problem.
Register here Speaker: Kevin Mellott,
President, ERASE Enterprises.
A Q&A session will be held during the last 15 minutes of the webinar.


April 18, 2013
The Business Council to host 2013 Annual Spring Environment Conference

Hilton Albany

Albany, NY.
Climate change, natural resources and industrial energy efficiency are among the topics which will be discussed during The Business Council of New York State, Inc.'s 2013
Spring Environment Conference.
This one-day event provides participants with a mid-year update on important environmental issues by key officials from the Governor's Office, the New York State Department of Environmental Conservation (DEC), as well as other environmental experts from around the state. They include Lois New, director of the office of climate change at the DEC, who will discuss how weather patterns affect the state's environment and Jenifer Dean, an invasive species biologist at the New York Natural Heritage Program, who will discuss remediation efforts to stem the damaging effects of invasive species in New York's waterways. Participants will have the opportunity to hear from and meet the experts who write and implement environmental laws and regulations. Kathy Moser, assistant director at the DEC, will discuss her agency's efforts to preserve New York's natural resources. Eugene J. Leff, deputy commissioner at DEC, will discuss the state's policies on cleanup efforts which minimize negative impact on the environment. The closing remarks will be provided by Francis J. Murray, president and CEO of NYSERDA . Other sessions will include: Litigation and Compliance in the Chesapeake Bay Watershed, an update on the state's water resources and an update on hearings and mediation in New York.The event attracts environmental professionals from manufacturing, industrial, engineering and legal sectors, among others. For more information on registration visit
www.bcnys.org/events.htm.
April 18, 2013
Energy, Jobs and the Economy
7:30 p.m.
Ramapo High School
331 George Street
Franklin Lakes, NJ.
North Jersey Public Policy Network's Distinguished Expert Series Presents: "Energy, Jobs & the Economy," a thought-provoking discussion of the economic implications of moving away from fossil fuels and investing in renewable energy. The talk features Professor Joseph Robertson of Villanova University and The Citizens Climate Lobby (CCL) and Professor Bruce Mizrach, Associate Professor of Economics at Rutgers University. Matt Polsky, of the Institute for Sustainable Enterprise will moderate the discussion. Admission is Free. Reservations are suggested:
info@northjerseypublicpolicy.org
.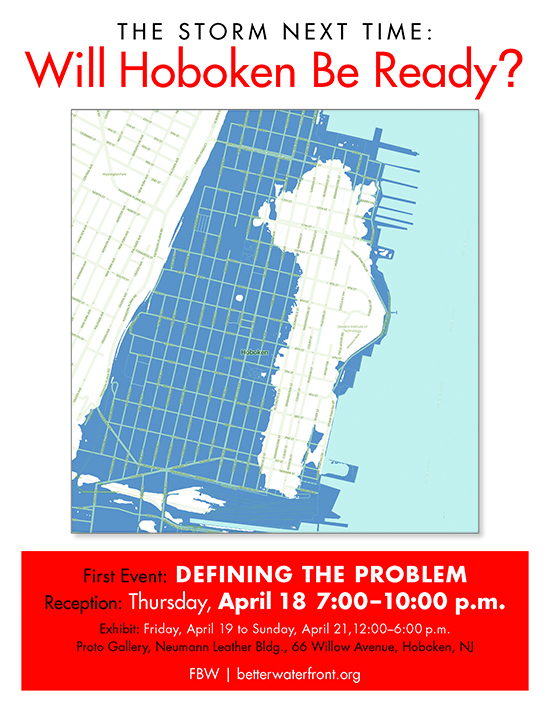 April 18-21, 2013
The Storm Next Time:
Will Hoboken Be Ready?

Reception:
April 18 – 7 to 10 p.m.
Exhibit: April 19-21 - Noon to 6 p.m.
Proto Gallery
66 Willow Avenue
Hoboken, New Jersey

Hurricane season begins in a few short weeks on June 1, and will continue in earnest until November 30. Are we ready? Is Hoboken prepared to meet the challenges of the next storm season?
The Fund for a Better Waterfront is organizing a series of events,
The Storm Next Time: Will Hoboken Be Ready?
, designed to provide Hoboken's residents with on-going access to current information on the scope of the problem and the progress we're making toward creating and implementing cost-effective solutions.
The first event of the series titled, "Defining the Problem" will take place at the Proto Gallery, 66 Willow Avenue in Hoboken. The event opens with a reception and presentation on Thursday, April 18 at 7:00 p.m. Following is a 3-day exhibit running from Friday, April 19 through Sunday, April 21 from 12:00 p.m. to 6:00 p.m.

More info here




April 20, 2013
South Plainfield Borough-Wide Cleanup
9 a.m. to Noon
Municipal
Building
2480 Plainfield Avenue
The South Plainfield Clean Communities Advisory Board is sponsoring a borough-wide cleanup the last week in April.

The main clean-up event will be on Saturday morning, April 20.

Volunteers will meet

from

to

at the

Municipal Building at

2480 Plainfield Avenue, to collect equipment and clean-up assignments.

We will target roadsides, parks, streams and vacant lots.

Residents are welcome to organize a crew, or to come on their own.

All volunteers are invited back to Borough Hall at

for a

free Pickup Picnic. For information, call Alice Tempel, Clean Communities Coordinator,

(908)

226-7621 or atempel@southplainfieldnj.com
April 20, 2013
Your Plant Deserves a Chance, Ask a Master Gardener
Master Gardeners of Camden County 2013 Plant Clinics
9 a.m. - Noon
Camden County Environmental Center
1301 Park Boulevard
Cherry Hill, NJ
Residents are invited to stop by with garden questions, sick plants, bug-eaten leaves and flowers, insects and for some friendly and helpful conversation.

April 22, 2013
NJ Environmental Lobby's 2013 Environmental Awards Reception

5:30 p.m. - 8:30 p.m.
The Chancellor's Suite, University Center
South Orange, NJ 07079
Frank J. Oliver Environmental Award Winners
:
Peter D. Mandelstam,
President, Arcadia Windpower and
Dr. Michael J. Kennish,
Research Professor, Institute of Marine & Coastal Sciences, Rutgers University.
Environmental Legacy Award Winner:
Eileen Swan,
Policy Projects, New Jersey Conservation Foundation and
Former Executive Director, New Jersey Highlands Council. A buffet of light refreshments will be served. Silent Auction. NJEL's volunteer of the Year also will be recognized. Tickets: $40 for members and $45 for non-menbers. Sponsorships available.

More information here


April 22-24, 2013
National Hydropower Association Annual Convention
Capital Hilton
April 23-24, 2013

NJ Sustainability Professionals' Summit: Visioning for Accelerated Impact
Princeton University
Purpose: This first-of-its-kind meeting will engage leadership, chief sustainability officers and sustainability professionals from various NJ economic sectors in a discussion of the current state of sustainability in New Jersey higher education. Within the context of New Jersey's unique status as the ecological crossroads that produced the "Garden State", this gathering will explore the potential partnerships with and within NJ higher education to foster a network of collaborations that transcends the education sector and advances our collective sustainability impact across the state. Sponsorships are available: Please contact NJHEPS at 732-777-6892 or gminkoff@njheps.org for further details. Co-Keynote Addresses: Dr. Henry Horn-Professor Emeritus, Princeton University, Dept of Ecology and Evolutionary Biology; Dr. Anthony Cortese--Founder of Second Nature, American College and University Presidents' Climate Commitment (ACUPCC), American Association for the Advancement of Sustainability in Higher Education (AASHE), and the Higher Education Associations Sustainability Consortium (HEASC). Sessions and panels include: "Engaging Executive Leadership in Sustainability-how do you make this happen/how others made it happen." -

Sustainability Collaborations and Partnerships with New Jersey's Higher Education Community Sectors/issues addressed include: Sustainability policy; clean energy/ technology; talent development, careers and entrepreneurship; curriculum/education, supply chain/ resource management, change management within/across institutions.
April 24, 2013
EJCDC 2013 New Construction Documents: An Overview
1- 2:30 p.m. EDT
Presented by:
Jim Brown, Vice President for Malcolm Pirnie, the Water Division of ARCADIS-U.S., Inc. and
Chair of the EJCDC Construction Subcommittee.
As the Engineers Joint Contract Documents Committee (EJCDC) finalizes the new 2013 editions of the EJCDC Construction Series (C-series) documents, there is no one more qualified to provide an overview of the substantive changes to the documents than Jim Brown, Chair of the EJCDC Construction Subcommittee. This 90-minute overview is your best introduction to
what's new and changed for these flagship documents
of the infrastructure industry.


A
pril 25, 2013
Environmental Business Council: Improving the LSRP Submittal Process
8 a.m. to 9:30 a.m.

PSEG
Training
&
Development
Center

234 Pierson Ave.
Edison, NJ 08837

The NJDEP has indicated that 75% of LSRP submittals are administratively incomplete and nearly half of the documents undergoing inspection contain error. Please join the EBC for a special presentation with members of the New Jersey Department of Environmental Protection who will discuss the common errors that they are seeing on submittals. They will be responding to the concerns our members have raised during our extended March 27th Roundtable regarding difficulties encountered with their submittals.
This program is designed to help LSRP avoid common errors, will provide how-to information, and an will give an opportunity to have all your questions answered.

Registration form

.
Site Remediation Practitioners' Forum will directly follow this event.

Please click here for more information

.


April 25, 2013
SWEP's Green Smarts Party

Saul Ewing
500 Market Street
Conference Room 38D
Philadelphia, PA 19103
Registration: 5 p.m. - Program: 6 p.m. to 8 p.m.
Help us congratulate the Society of Women Environmental Professionals' s 2013 scholarship and grant recipients at SWEP Greater Philadelphia's annual
Green
Smarts
Party! We will be honoring our scholarship winners as well as the winners of our annual grants. Learn about impressive students and environmental programs while you network and mingle with other environmental professionals. Wine, sandwiches, and hors d'oeuvres will be served.
W
ine, sandwiches, and hors d'oeuvres will be served.
Building visitors must present a photo ID
.
Cost:
Members/Non-members: $20;
Students: $10.
Register
by 5 pm, April 18.
Questions?
Cristina Arlt,
swep.scholar.phila@gmail.com
P
arking
Public Transit: Proximate to 15
th
Street Station, City Hall Station, and Suburban Station
April 26-28, 2013
NJ Wildlife & Conservation Conference
Sheraton Eatontown Hotel
6 Industrial Way East
Eatontown, NJ

A conference designed to find common ground among wildlife enthusiasts and sportsmen, learning and sharing information focused on wildlife conservation, setting the stage for innovative partnerships.
Join Conserve Wildlife Foundation of NJ, the NJ State Federation of Sportsmen's Clubs and the NJ Division of Fish and Wildlife for panels and seminars about New Jersey's wildlife and how sportsmen, wildlife enthusiasts, biologists and others can come together around a commitment and passion for protecting New Jersey's wildlife. Together, we can set the stag for innovative, productive partnerships in the years to come. Information and registration
here
April 27, 2013
Bilger's Rocks Environmental Dedication
8 a.m. through 4 p.m.
At 1 p.m., a ceremony will take place designating the Bilger's Rocks as a Pennsylvania Wild Plant Sanctuary. Media and government officials will be in attendance. This is a great opportunity for you to visit and explore an extraordinary geological setting as well as an exceptional fauna and flora area.
There is no cost for the day's events, only an adventure in the great outdoors that will amaze you.
Participants also receive free primitive camping sites for the weekend. Bilger's Rocks is located in Clearfield Co. Pennsylvania, 12 miles south of I-80 and two miles east of 219 on the Eastern Continental Divide. For more information, see our
Facebook page
or our
under-construction website
. You also may call Terry (814-577-8362) or Gary (814-592-1819) or e-mail
info@bilgersrocks.com
April 27, 2013
Discovery Day: Naturepalooza
10 a.m. to 2 p.m. (Festival hours)
8:30 a.m. – 4:30 p.m. (Plant sale hours)
Cost: FREE
Schuylkill Center for Environmental Education
Meet a black vulture. Weave a giant bird's nest. Explore a spring forest. Learn to love worms. Naturepalooza, a Philadelphia Science Festival Discovery Day event, celebrates all things natural with free fun for the entire family, Saturday, April 27 from 10:00 am – 2:00 pm. The Schuylkill Center's annual Native Plant Sale is open to the public the same day, so you can enjoy the festival then shop for your yard or garden from a huge selection of native plants. The Schuylkill Center's amphitheater will rock to the sounds of kid-friendly musical acts The Plants, Nature Jams and Two of a Kind. Young and old alike will be fascinated by live animal shows featuring ambassadors from the Center's wildlife clinic. Acclaimed Philadelphia muralist David Guinn will lead all willing hands in a giant outdoor artwork using materials from nature. Budding or armchair scientists can participate in citizen science projects from the event's Philadelphia Science Festival partners: the Philadelphia Zoo, The Franklin Institute, SciStarter, and John James Audubon Center at Mill Grove. The intrepid can explore the world of the FBI: Fungi, Bacteria and Invertebrates with the Franklin Institute, or contribute a sample to the human microbiome project with SciStarter. Also in the mix are guided nature walks, birding and frog-hunting excursions, and craft workshops for kids. Farm Truck and Just Jackie's food trucks will be on hand selling farm fresh and homemade munchies.
April 27, 2013
Art Blooms Earth Festival
Bike ride: 9 a.m.
10 a.m. to 2 p.m. (Festival) Croft Farm 100 Borton Mill Road
Cherry
Hill
, NJ 08034
Rain or shine
Festival Sponsorship Information
HERE
.


April 27, 2013
28th Annual Clean Ocean Action Beach Sweeps
Clean Ocean Action (COA) invites citizens and organizations to participate in the 28th Annual Spring Beach Sweeps on Saturday, April 27 at over 60 sites along the Jersey Shore. A complete list of cleanup locations and times can be found at www.ForTheShore.org. This year's event is in combination with the fifth Wave of
Action, a program that is responding to the impacts of Superstorm Sandy and helping to improve and protect the marine environment through monthly volunteer actions. The Beach Sweeps is much more than picking up trash, it's about collecting data to help reduce sources of pollution. Volunteers are instructed to record the quantity and types of debris found. The information collected at the Sweeps is analyzed and published into annual reports. These reports helps identify pollution problems, aid legislators in enacting laws to protect our marine environment, and inform local and international efforts to combat marine pollution. COA will release the 2012 Annual Beach Sweep report mid-April, just in time for the spring Beach Sweeps. All reports are available on-line at ww.CleanOceanAction.org.
COA encourages participation from volunteers of all ages individually or from businesses, families, and organizations
. Volunteer are requested to pre-register
by using the online sign-up form at
www.ForTheShore.org
. Volunteers should bring gloves, dress for the weather, apply sunscreen, and wear closed-toed, hard-soled shoes.
List of sites
.
April 27, 2013
ANJEC: Fundamentals for Effective Environmental Commissions
Lawrence Township Municipal Building
2207 Lawrence Road
Environmental Commissions provide the expertise and information necessary to help their town and its residents address environmental concerns.
The Commissioners' Course is designed to provide practical information and project ideas that will assist commissions as they face the challenges of protecting their towns' natural resources.
ANJEC staff and other invited speakers will present an overview of environmental
commission responsibilities and powers, and discuss the basic tools and techniques--master planning, ordinance development, site plan review, and environmental resource inventories--used by commissions as they work at the local level to promote sustainable energy practices and protect the environment.
Registration:
ANJEC Members $35;
Non-Members $40.
If your commission is on the ANJEC Workshop Plan there is no charge to attend.
To register and for further information,
email ANJEC
or call
973-539-7547
.
April 28, 2013
Third Annual Edison Earth Day Celebration
May Street & Liberty Street
Edison, NJ 08837
(Rain Date: May 5, 2013)
Co-presented by the Township of Edison, Edison Township Environmental Commission and the Edison Sustainable Jersey Green Team.
For more information as to attendance, participation and/or sponsorship, contact Chris Mazauskas, Resource Development Officer, Dept. of Administration at 732-248-7356 or
cmazauskas@edisonnj.org
-----------------------------------------------------------------------------------------------------------------------
-----------------------------------------------------------------------------------------------------------------------



April 30, 2013
2013 NJ Regional Planning Summit!
The War Memorial
Trenton, NJ


April 30, 2013
New Jersey SWEP Site Tour of New Solid Waste Transload Facility
4 p..m. to 7 p.m.
DART Transload
540 Doremus Avenue
Newark, NJ 07105
Join the New Jersey Society of Women Environmental Professionals for a site tour of one of
the newest solid waste handling
facilities in New Jersey. EnviroSolutions will be hosting the April networking
event at it's DART Transload Facility. There will be ongoing site tours along with hors
d'oeuvres and a selection of wine, beer and other
refreshments
. Directions:
Directly off the NJ Turnpike, Exit 15E,
Follow signs to Doremus Avenue.
Right onto Doremus Avenue (South)
DART is approximately 1.5 miles down on the left hand side.
(973) 855-3605
Event is free for NJSWEP members; $15.00 non-member fee.
RSVP to this email or
lindaesposti@verizon.net

May 1, 2013
PADEP Open House and Public Hearing on Washington County Compressor Station
6:30 to 8:30 p.m.
Smith Township Municipal Building
1948 Smith Township State Road
Slovan, Washington County, Pa.
The Pennsylvania Department of Environmental Protection will host an open house and formal public hearing to discuss a proposed air quality plan approval for MarkWest Liberty Midstream and Resources LLC to install and begin temporary operation of new equipment at its Smith Compressor Station. The facility is located in Smith Township, Washington County. The company is requesting approval to allow the installation and temporary operation of eight new rich burn natural gas-fired compressor engines. The newly proposed engines have a higher horsepower rating than engines currently in operation at the facility. The company is also asking to increase the capacity of a currently authorized dehydrator. At 6:30 p.m., the open house portion of the evening will begin with representatives from MarkWest making a presentation outlining their request. DEP will explain the plan approval process. Then, company representatives will be available to further explain the request and answer questions. Immediately following, at 7:30 p.m., members of the public may present up to five minutes of formal testimony for the public record. The testimony will be recorded by a court reporter and transcribed into a written document, and DEP will create a written response to all relevant testimony. Those who wish to present oral testimony should contact DEP Community Relations Coordinator John Poister at 412-442-4203 or register that evening prior to the hearing. Only those who register can give testimony at the public hearing. For anyone unable to attend the public hearing, written comment should be submitted by the close of business May 11 to Alan Binder, PA DEP Bureau of Air Quality, Southwest Regional Office, 400 Waterfront Drive, Pittsburgh, PA 15222. Individuals in need of an accommodation as provided for in the Americans with Disabilities Act of 1990 should contact John Poister at 412-442-4203 or make accommodations through the Pennsylvania AT&T Relay Service at 1-800-654-5984 (TDD). For more information, visit

www.dep.state.pa.us

or call 412-442-4000.

May 2, 2013
8 a.m. to 9:30 a.m. Program
Courtyard by Marriott Newark Downtown
(Parking - in secure lot - is included in registration)
After several years of an almost lifeless real estate market, there is a pulse in New Jersey's real estate industry. Exciting development and redevelopment projects are taking shape all over the state and CIANJ is pleased to bring you a panel of three influential real estate professionals who are leading the way with New Jersey's hottest projects.
Register
here
May 2, 2013

Backyard Chickens:
Raising Them and Gardening With Them
Sign-In 6:30 p.m. Lecture promptly at 7 p.m.




Camden

County

Environmental Center|


1301

Park Boulevard




Cherry Hill, NJ




Considering raising chickens in your backyard? Learn how to integrate them into your garden. Learn the basics from chick to egg or egg to chick focusing on which breeds work best in our climate, overall maintenance and care as well as tricks of the trade. Adam Glas is on the staff of Scott Arboretum at

Swarthmore

College. He is a graduate of the Longwood Gardens Professional Gardener Training Program and has animal husbandry experience as a Barn Manager.

Advance registration requested.

For more information: 856-216-7130 or email

njgarden@camdencounty.com

.


May 4, 2013
A healthy community is a strong community.

Founded in 1981, Isles, Inc. is a self-help, urban green development organization in Trenton, NJ. We work to grow fresh food, teach our neighbors to grow their own fruits and vegetables, improve healthy eating habits, and create safe spaces where people can exercise.

Support this cause by participating in Miles for Isles, a 5K Run & 1 Mile Walk.

This year, the race will be at

Mercer County Park

in West Windsor, New Jersey.

Register before April 13th and receive a free T-shirt!

Snacks and prizes will be on hand! This is a USATF Sanctioned race. Please contact Christine Grele with any questions. cgrele@isles.org 609.341.4738
May 5-8, 2013
McCormick Place Convention Center
Chicago,, IL
Coming off a record year in 2012, the wind energy industry looks forward to building on that momentum, and that's where WINDPOWER 2013 and "Solutions for Success" come in. In an ever-changing marketplace, companies need real-life solutions that can adapt to the dynamic environment, and teach them about new technology, introduce them to a variety of products and services, and help strengthen business relationships. At WINDPOWER 2013, there is a vested commitment to wind energy interests that provide value to attendees and visibility for leaders, all while linking the industry together to find solutions for the advancement of wind power.

More information



May 14, 2013
Horticultural Society of South Jersey
7 p.m.
Carman Tilelli Community Center
820 Mercer Street
May

is the annual Spring Flower Show and lecture. Harry Gamble, a Landscape Architect for a prominent local nursery, will be discussing Landscape Design. He will talk about how to work with various plants, planting material and techniques. Come see our members' gorgeous flower arrangements, specimens and photographs. Enjoy the speaker while professional judges evaluate entries. Only paid-up members may enter the flower show but the event and lecture are free and open to the public. For more information, go to the HSSJ.org website.
May 16, 2013

GMO Free NJ Meeting -2nd annual Green Fest follow-up

7 p.m. to 8 p.m.
Collingswood Library
771 Haddon Ave.
Collingswood, NJ 08108This informational meeting will explore the presence of genetically engineered substances in our food supply, shopping strategies and actions you can take today. Free and open to the public--bring a friend. gmofreenj.com


May 18, 2013
Your Plant Deserves a Chance, Ask a Master Gardener
Master Gardeners of Camden County 2013 Plant Clinics
9 a.m. - Noon
Camden County Environmental Center
1301 Park Boulevard
Cherry Hill, NJ
Residents are invited to stop by with garden questions, sick plants, bug-eaten leaves and flowers, insects and for some friendly and helpful conversation.
Environmental Management Information Systems in the Cloud Conference
8 a.m.-5 p.m. PST
The Ritz-Carlton in San Francisco
EMIScloud 2013 is the premier conference on organizing environmental, sustainability, health/safety, energy, air, and water information in the Cloud, hosted by Locus Technologies. At this peer-led, two-day event, you will learn about recent developments in the environmental management space, and light will be shed on the best practices and Cloud-based options that exist today to more effectively manage your mission-critical environmental information. This is your chance to collaborate and celebrate with Locus customers, partners, employees, and various like-minded, environmental professionals. You will hear from multiple perspectives such as companies that have undergone the Cloud transformation, environmental professionals from different industries with a wide range of experiences, and Locus experts, and will emerge with the proper knowledge to help your company avoid potential pitfalls in the future. Please visit the event website for further information,
www.emiscloud.com
, or email
emiscloud@locustec.com
.
-------------------------------------------------------------------------------------------------------------------------------
For free publication, send your event information to: editor@enviropolitics.com
-------------------------------------------------------------------------------------------------------------------------------



June 10-12, 2013
INEF Penn State Conference 2013
A conference for the Environmental Forensics community
The Pennsylvania State University
University Park, PA
Short Course June 10, 2013-
A preliminary full day environmental forensics course
prior to the conference will include presentations of
forensics geochemistry with an emphasis on petroleum
hydrocarbons, chlorinated solvents, and organic
compounds. Compound specific isotope analysis and
the use of surrogate analysis in environmental forensics
investigations are presented in detail. See full agenda here.

Technical Sessions, June 11-12, 2013 -
Two days of technical sessions will feature selected presentations on environmental forensics topics solicited from international leaders in the field. Selected speakers will submit manuscripts summarizing their papers that will be peer-reviewed prior to publication by the Royal Society of Chemistry. Copies of the proceedings will be provided to all conference attendees following the conference. Due to current level of interest, a special session will be organized on the environmental forensics of hydraulic fracturing. As part of this session invited presentations are planned, in addition to open submissions, by key experts in this important area
More information and call for abstracts
June 11, 2013
Understanding Sustainable Management
and the Cook College Office of Continuing Professional Education
June 13-14, 2013


Development of Site-Specific Impact to Groundwater (IGW)
Soil Remediation Standards (SRS) using SESOIL and AT123D

Rutgers Continuing Studies Conference Center

178 Ryders Lane, New Brunswick, NJ 08901

Instructors: Michael Barden, Robert Schneiker, Liliana Cecan & Paul Sanders

The cost for this two-day seminar is $795. A printed course notebook as well as continental breakfast, lunch, and break snacks and refreshments for both days of the seminar are included. This two-day course is approved for 14 CECs for LSRPs and covers the development of site-specific impact to groundwater (IGW) soil remediation standards (SRS) under the NJDEP guidance. Subject matter will range from simple equations (SWPE), to SPLP, and transport and fate modeling, using SESOIL and AT123D within the new SEVIEW 7.1 software package. For additional information please contact Liliana Cecan at liliana.cecan@interbrain.net or Robert Schneiker at seview@seview.com.

June 15, 2013 Your Plant Deserves a Chance, Ask a Master Gardener

Master Gardeners of Camden County 2013 Plant Clinics

9 a.m. - Noon
Camden County Environmental Center
1301 Park Boulevard
Cherry Hill, NJ
Residents are invited to stop by with garden questions, sick plants, bug-eaten leaves and flowers, insects and for some friendly and helpful conversation.



June 20, 2013


2013 PA Recycling Markets Development Summit
Spotlight On E-Waste
Holiday Inn Harrisburg East
4751 Lindle Road
Harrisburg, PA 17111
Update on the WMGR081 General Permit for E-Scrap Recyclers in Pennsylvania. Learn about the renewal process and potential changes to the permit. Presented by DEP; What you also can expect: Update on the e-Stewards Standard for E-Scrap Recyclers; Update on the R2 Standard for E-Scrap Recyclers; Update on CRT Processing in the US and elsewhere, and Manufacturer, retailer, and recycler perspectives on the implementation of the CDRA. Questions: Email

info@parmc.org

or call us at 717-948-6660.
------------------------------------------------------------------------------------------------------------------------
How you can help us to grow...

1. Sign up for free email updates (using the easy form in the top- right corner
2. Forward the calendar to your friends and colleagues. For help, click on Tell-A-Friend in the lower-right column
3. Mention us on Facebook or in your next tweet
-------------------------------------------------------------------------------------------------------------------------
July 20, 2013
Your Plant Deserves a Chance, Ask a Master Gardener
Master Gardeners of Camden County 2013 Plant Clinics
9 a.m. - Noon
Camden County Environmental Center1301 Park BoulevardCherry Hill, NJ
Residents are invited to stop by with garden questions, sick plants, bug-eaten leaves and flowers, insects and for some friendly and helpful conversation.
August 17, 2013
Your Plant Deserves a Chance, Ask a Master Gardener
Master Gardeners of Camden County 2013 Plant Clinics
9 a.m. - Noon
Camden County Environmental Center
1301 Park Boulevard
Cherry Hill, NJ
Residents are invited to stop by with garden questions, sick plants, bug-eaten leaves and flowers, insects and for some friendly and helpful conversation.


August 20-22, 2013
Eastern Regional Meeting - Society for Petroleum Engineers of PA
Pittsburgh, Pa
Over the past 5 years since the last ERM was held in Pittsburgh the basin has grown considerably to accommodate the explosion of the Marcellus shale and more recently, its older brother, the Utica shale. The result of this is the rich legacy of experience that was already present in the basin is now armed with access to and the application for the latest technology for oil and gas field development. This has shifted our basin from being a mere 'user' of technology to being a true 'developer' of technology. We have also seen the industry embrace the added environmental challenges of the area and work through solutions that benefit the communities in which we operate.
The theme of the 2013 Eastern Regional Meeting is appropriately named "Bridging Experience with Technology" and Pittsburgh will be the perfect venue to share these realized successes to others in the basin and to showcase them to those operating in similar unconventional basins outside of the area.

More information
ANJR Annual Recycling Symposium & Luncheon
Jumping Brook Country Club
-----------------------------------------------------------------------------------------------------------------------