Environmental seminars, forums, education, networking and social opportunities in New Jersey, Pennsylvania, New York & Delaware
----------------------------------------------------------------------------------------------------------------
For free publication, send your event information to: editor@enviropolitics.com
----------------------------------------------------------------------------------------------------------------
September 26-27, 2013
Mold Remediation Certification Course NJ
Hosted by Environmental Solutions Association

8 a.m. to 5 p.m.

EMSL Lab World Headquarters
200 Route 130 North
Cinnaminson, NJ 08077
View Map
To buy tickets or find out more, visit:
Event URL
September 26-27, 2013
2013 Mid-Atlantic Conference of the American Water Resources Association

The Conference Center at Mercer
Presented by the New Jersey Section-AWRA in conjunction with the
Delaware State Section, National Capital Region Section,
Pennsylvania State Section and Philadelphia Metropolitan Area Section
AWRA and the sections of the Mid-Atlantic region are committed to fostering interdisciplinary communication among persons of diverse backgrounds working on any aspect of water resources. We anticipate that the conference will carry on that mission with a program that will include a wide-range of water resources topics to interest practitioners, researchers and students from a variety of disciplines. Our goal is to provide an interesting and informative program that will provide attendees with lessons and tools to apply in their watershed.
Conference Highlights:
Two days of keynote speakers and concurrent sessions;
Poster sessions and E
xhibits – The exhibit hall will provide the opportunity for attendees and exhibitors to connect and build partnerships.
Thursday Evening Banquet: In 2013, the Mid-Atlantic Sections of AWRA will celebrate Water New Year's Eve. The Water New Year's Eve celebration is a highlight of the NJ Section's year - and this year, we expect it to be a wonderful chance to meet new people and re-connect with old friends from throughout the region.
Who should attend?
State, county, and municipal officials, planners, and engineers;
Environmental and engineering consultants; H
ealth officials and researchers;
Water purveyors; W
atershed association members;
Soil Conservation District officials; S
cientists from academic institutions, and g
raduate and undergraduate students.
Conference Program
Conference Registration
September 26, 2013
Green Sanctuary Future Visions Film series: Hummingbirds - Magic in the Air
7 p.m.
(between Park & Lexington Avenues)
Manhattan
$5 suggested donation
Hummingbirds are not only the smallest warm-blooded creatures on the planet, but are also among the fastest. With wings that beat 200 times every second, they are nature's most accomplished athletes, able to hover, fly backwards and even upside down.
By using cameras that capture over 500 images a second, the hummingbirds' magical world can finally be revealed and appreciated. Amazing footage shows these little powerhouses are more than simply delicate nectar gatherers--they are also deadly predators.
-----------------------------------------------------------------------------------------------------------------------
For free publication, send your event information to: editor@enviropolitics.com
-----------------------------------------------------------------------------------------------------------------------
September 28, 2013
Fall Bird Seed and Native Plant Sale
The Schuylkill Center for Environmental Education
Philadelphia, PA 19128


Plant sale runs 9:00 am – 2:00 pm; Seed sale runs 9:00 am – 4:30 pm
Replenish your garden with berry-producing trees and shrubs and fall-blooming wildflowers—all perfect for migrating birds and insects. Save on quality bird seed, seed mixes and suet. Members receive 20% off seed and 10% off plants; non-members receive 10% off seed. Ensure you get the quantity of bird seed you need: order in advance. Email cmorgan@schuylkillcenter.org or call 215-482-7300 x 127 by Sep, 20. Free


September 28, 2013
Historic Walking Tour at Double Trouble


10 a.m. Double Trouble State Park
Lacey Township, N.J.
The Double Trouble Historic District at Double Trouble State Park in Ocean County illustrates two Pinelands industries: lumbering and cranberry harvesting. The village with the unique name was first settled during the Colonial era. As swamps were cleared of the timber used for cedar shingles, laths and ship building, they were planted with cranberry vines. Highlights of the field trip include tours of the restored sawmill and cranberry sorting and packing house as static exhibits, and a visit to the cranberry bogs. There will be some walking on sand roads. Andrew Anderson, Historic Resource Specialist for Double Trouble State Park, will share stories of this village's past while guiding the group through the historic district. Cost is $10/person.
Registration required
, call Tom at 609-859-8860 x 14 or
online here
--------------------------------------------------------------------------------------------------------------------
--------------------------------------------------------------------------------------------------------------------


September 29, 2013
Autumn with the Animals
Noon to 4 p.m.
Cedar Run Wildlife Refuge
4 Sawmill Road
Medford, NJ
More information here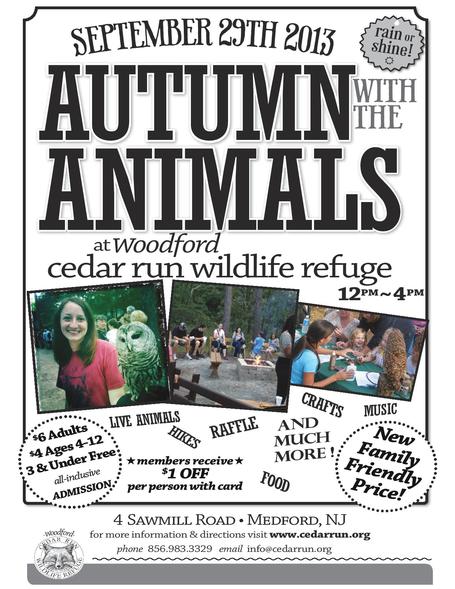 September 29, 2013
Blue Banyan Yoga Retreat
The Schuylkill Center for Environmental Education
The change in seasons can produce profound effects on our bodies and psyches. Tune into nature's flow and re-balance your body and mind with this special yoga retreat. Sophie Simpson, founder of Blue Banyan Yoga in Mt. Airy, guides you through three hours of Asana (yoga postures), Pranayama (breath work) and mental quieting—all outdoors amid the beauty of nature. Cost: $40 (Schuylkill Center members receive discounted admission) Registration required. Call 215-482-7300 x 110.
October 1, 2013
New Jersey Technology Summit
8 a.m. - 3 p.m.
NJHA Conference & Event Center
Princeton, NJ

The NJTC Leadership Summit will assemble New Jersey's best and brightest high-tech and life science executives for insightful discussions, engaging and successful speakers and practical advice for managing a more profitable company. With topics ranging from preparing for acquisitions to managing costs to creating value through marketing and human capital, this event promises to position you and your company for greater success.

More event information and registration


October 1, 2013


The Role of the Environmental Consultant in Litigation


This half-day program is designed to prepare environmental professionals to participate effectively in litigation and other legally oriented proceedings. As environmental issues become increasingly complex, the role of technically trained professionals in litigation continues to grow, and their advice or testimony is often decisive. http://www.cpe.rutgers.edu/courses/current/el0103ca.html

October 1, 2013


Composting, Soil Health, and the Landscape




6:30

p.m. - 7:30 p.m.
Rutgers Cooperative Extension of Cumberland County
291 Morton Ave.
Millville, NJ
What is soil "health"? And how can you improve the health of your soil to grow better lawns and gardens? Plus, how to compost leaves and other organic materials to make your own soil amendments.
Details and contact information:

Flyer

See other programs here
------------------------------------------------------------------------------------------------------------
How you can help us to grow...

1. Sign up for free email updates (using the easy form in the top- right corner
2. Forward the calendar to your friends and colleagues. For help, click on Tell-A-Friend in the lower-right column
3. Mention us on Facebook or in your next tweet
------------------------------------------------------------------------------------------------------------
October 2, 2013
Hurricane Sandy Flood Claims:
A Free Program for Property Owners
6:30 p.m. - 9:30 p.m.
Wolff & Samson PC
One Boland Drive
West Orange, NJ 07052
If you have an unresolved flood insurance claim related to Superstorm Sandy, please join us for an informative program to ensure you file your claim properly and on time.
The deadline to file a Proof of Loss for a Sandy flood claim is as soon as October 28. Failure to meet this deadline could result in property owners being barred from collecting additional money from their insurance company.
It is important to note that Proofs of Loss prepared by an insurance company will not reflect any disputed damages. You must file your own Proof of Loss reflecting denied or underpaid claims by the deadline.
Join us for a presentation and Q&A session with members of our Disaster Recovery Claims Group. Please feel free to bring copies of your paperwork.

Click here to register


October 2, 2013
Composting, Soil Health, and the Landscape
6:30 p.m. - 7:30 p.m.
Rutgers Cooperative Extension of Salem County
51 Cheney Rd.
Woodstown, NJ
What is soil "health"? And how can you improve the health of your soil to grow better lawns and gardens? Plus, how to compost leaves and other organic materials to make your own soil amendments.
Details and contact information: Flyer See other programs here


October 2-4, 2013
Executive Seminar on the Changing Energy Landscape
The Madison Hotel | Washington, DC
Lead your organization through complex decisions with a deeper understanding of
The Changing Energy Landscape: Energy, Environment and Security
. Drawing on the expertise of The Fletcher School at Tufts University, the executive certification seminar will address interconnected issues arising from dramatic changes in our energy landscape and what they will mean for decision makers in government, business and non-profit organizations. Take advantage of this exclusive opportunity to connect and collaborate with experts and professionals from the public, private and NGO sectors, while earning an executive education certification from a world-renown international affairs school. For more information, visit
fletcher.tufts.edu/triplomacy
or contact Kara Evanko at
kevanko@sternassociates.com
.
October 3, 2013
8th Annual Meigs Awards: Celebrating Leadership
The Schuylkill Center for Environmental Education
Join us for a special evening celebrating our present success and future promise. Over a coffee and dessert reception, we'll present the 2013 Henry Meigs Awards for Environmental Leadership and our annual Volunteer Service Awards. Then, Executive Director Mike Weilbacher will unveil our new Master Plan, highlighting our exciting goals for the future as we look toward our 50th anniversary in 2015. FreeFor information or to register, call 215-482-7300 x 110.
October 3, 10, 17 and 24, 2013 (4 consecutive Thursday evenings)
ArcGIS: Introduction
Rutgers University, New Brunswick, NJ
Test out your GIS knowledge and skill with hands-on GIS software application! With a focus on layout and core functionality, this 12-hour evening course offers an overview of ArcGIS components, basic display and map querying functions, metadata browsing and file management, basic analysis techniques, and map layout. Increase your software proficiency with practical, in-class exercises!
October 5, 2013
A Writing Retreat in the Woods
The Schuylkill Center for Environmental Education
Let nature be your muse. Gather inspiration along our trails while you hone your craft with workshops presented by experienced, published teachers from Musehouse: A Center for the Literary Arts. Explore nature journaling, outdoor flash fiction, poetry, bookmaking with branches, and more. Novice and experienced writers welcome. Cost: $50 Register by Sept. 5 to receive $5 off! (Schuylkill Center members receive discounted admission) Registration required.Call 215-482-7300 x 110.

October 5, 2013
Monroe Township Green Fair
10 a.m. to 3 p.m. FREE EVENT
Oak Tree Elementary School
Applegarth Road
Monroe Township, NJ 08831.
Learn to reduce your carbon footprint, join our freecycle, learn about new technology, Solar, hybrid vehicles, games and story time for kids, Eco Friendly products, native plants and so much more. Call for information or to be one of our Green Vendors. 732-521-4405
October 5, 2013
Political Economy of the Environment
A Conference of the Union for Radical Political Economics
St. Francis College, Brooklyn, NY
Registration includes lunch onsite and a wine & cheese reception following the programming.
We are living in a period of increasing environmental crisis and growing inequalities within and between the countries of the world. The obstacles to sustainable development and the equitable distribution of the products of our labor lie in the ways in which our political economic system operates. Understanding and challenging capitalism is therefore essential for the building of local, national and international environmental movements. The goal of this conference is both to clarify areas of agreement among progressive environmental activists and to promote friendly discussion of disagreements.
Preliminary Program
:
Online Registration
Facebook
Flyer


October 6, 2013

Geology, Hydrogeology and Chemistry
This program is designed for the non-scientist and will provide students with a basic understanding of geology, hydrogeology and environmental chemistry. The fundamental principles will be presented in terminology that makes it easy to understand… even if your only background is high school chemistry. You will also learn how to use this information when evaluating environmental conditions at your site or property.
http://www.cpe.rutgers.edu/courses/current/ew0106ca.html
October 7, 2013

Water Conservation for Lawns and Gardens
6:30 PM - 7:30 PM
Rutgers Cooperative Extension of Salem County
51 Cheney Rd.
Woodstown, NJ
Beautiful landscapes that save money and water can use native plants, mulches, and smart irrigation system controls. Details and contact information:
Flyer
See other programs here


October 8, 2013
PADEP Public Meeting, Hearing on Contaminated Berks County Scrap Yard
7 p.m.

DEP's Reading District Office
1005 Crossroads Boulevard
Reading, Pa
The Department of Environmental Protection will hold a public meeting and hearing to outline its plan to finish remediation at the former Reading Industrial Scrap Yard in Muhlenberg Township, Berks County.
A formal hearing will follow. "This combined meeting and hearing provide an opportunity for the public to ask questions and voice any concerns about our proposed cleanup plan," DEP South-central Regional Director Lynn Langer said. From 1980 to 2000, a company called Reading Industrial Scrap Inc. operated a salvage yard at the site where they recycled metals. Beginning in 2001, a new owner initiated a cleanup of 400 drums of unknown material that had been stored at the scrap yard. Some of the material was disposed at permitted disposal facilities, but during the process about 200 drums of waste were buried onsite in large pits. Vehicle batteries, paint cans, car engines, scrap metal and a car crusher were also reportedly buried at the scrap yard. DEP and the Attorney General began an investigation in the summer of 2002, which resulted in the discovery of the 200 drums that had been illegally buried. A Consent Order and Agreement between DEP and the owner resulted in the removal and proper disposal of 4,582 tons of waste. During the investigation, samples of material taken from a pit excavation revealed hazardous levels of lead and silver. DEP initiated a prompt response to secure the scrap yard to protect public health and safety in the summer of 2004. A security fence was constructed around the site and 2,000 tons of contaminated soil and 50 cubic yards of crushed drummed waste containing polychlorinated biphenyl, a chemical commonly used as a coolant fluid, were removed and disposed. In the spring of 2008, DEP initiated an investigation to identify and delineate the remaining wastes and soil contamination. The sample results showed lead contaminated soils. Groundwater sampling was also conducted, but only minor contamination was detected. DEP's proposed plan to treat the remaining lead contamination is to excavate the contaminated soils, re-locate the soils to a deep pit in the scrap yard, and then cap the material with two feet of clean soil to eliminate pathways for contact with contaminated soil. During the hearing portion of the evening, the public will have an opportunity to present up to five minutes of oral testimony about the department's proposal. Those who wish to present testimony can register by calling Dave Hrobuchak at 717-705-4843 or by registering the night of the hearing. For anyone unable to attend, written comments should be submitted by Dec. 5 to Dave Hrobuchak, DEP South-central Regional Office, 909 Elmerton Ave., Harrisburg, PA 17110. DEP staff will provide a written response to all significant testimony provided during the public hearing and public comment period. The administrative record for this site response will be open for review and comment until Dec. 5. It can be reviewed by appointment weekdays from 8 a.m. to 4 p.m. at DEP's South-central Regional Office at the address above. Call 717-705-4843 to make an appointment. The administrative record may also be reviewed from 8 a.m. to 4 p.m. on weekdays at DEP's Reading District Office by calling 610-916-0100.
October 9-13, 2013
9th Annual Tour de Pines 2013
Celebrate Pinelands Month in October with five consecutive single day bicycle tours of the Pinelands. Beginning Wed., Oct. 9th at PPA's Bishop Farmstead in Southampton Township, we will traverse the length and breadth of the Pinelands National Reserve, and finish at Batsto Village on Sun., Oct. 13th. Each day's tour will range from approx. 40-55 miles per day, with average speeds of 11-13 mph, and begin and end at the same location.The Tour de Pines is a non-competitive, unsupported ride. For more information or to register click here.


October 9, 2013
NJDEP Air Compliance & Enforcement (ACE) Training/Outreach Seminar
8:15 a.m. to 4 p.m.
New Jersey Forensic Science Technology Center
1200 Negron Drive
Hamilton, NJ (

Directions

)
This training will provide information on multiple air pollution topics. The event will begin with a brief update on current efforts within our Air program, followed by an update on the new General Permits. The event will continue with an overview of the Non-Technical Amendment, and how one goes about completing and submitting the form. Do the terms NOV, AONOCAPA, ACO have you confused? We will also provide an overview of all Enforcement Documents. The morning will wrap up with a presentation on applicable regulations and requirements for area source emergency generators. In the afternoon we will be focusing on electronic reporting which will include a presentation from the Bureau of Technical Services as well as a step by step instructional on submitting reports through the NJDEP Online Portal for General Permits, Annual combustion Adjustments and Title V Reports. The day will conclude with a question and answer session. Seating is limited. Reserve your seat here.


October 9, 2013
New Jersey: Resilient and Rebuilding: CIANJ Business to Business Conference
8:30 a.m. to 3 p.m.
Hilton Hasbrouck Heights
650 Terrace Avenue
Hasbrouck Heights, NJ
The Commerce and Industry Association of New Jersey (CIANJ) is holding a special post-Sandy conference to examining the storm's effects on business, how the recovery is progressing and what opportunities are awaiting in the future. Business assistance programs, new construction guidelines, and insurance strategies are among the topics that will be discussed in this day-long conference.
Click
here
to view the tentative agenda.

Speakers and registration information

October 9, 2013

October 10, 2013
Green Materials and Services Expo
3 p.m. to 8 p.m.
HSBC Plaza
100 Chestnut Street
Rochester, NY

(Click Here for Directions)
The Genesee Region of the US Green Building Council NY Upstate Chapter's 'Green Materials and Services Expo' is an excellent way for your company to specifically reach your preferred customer market. Last year this event was held in the Hudson Valley, and featured 23 exhibitors and a lot of fun! Meet your peers. Learn from each other and collaborate to grow!
Exhibitor Registration Form
-------------------------------------------------------------------------------------------------------------------
Try it free for 30 days! No obligation. Cancel anytime with one click
-------------------------------------------------------------------------------------------------------------------

October 12, 2013
NOFA-NJ Open House at Incubator Farm


10 a.m. to 4 p.m.

Duke Farms
1112 Duke Parkway West

Hillsborough, NJ

The Northeast Organic Farming Association of New Jersey (NOFA-NJ) hosts it's Second Annual OPEN HOUSE at The Center for Working Lands Beginner Farmer Incubator, a farm training program for new farmers. NOFA-NJ is opening its doors to the public to host a farm education day on our farm!

The OPEN HOUSE will cover many components of gardening and farming for beginner gardeners, homesteaders and farmers including seed starting, poultry processing, food preservation, Permaculture design, quail raising, making your own herb salves and more!! Classes will be held every half hour and will include some farm animals, field walks, and a tour of the farm.

The event will be held at Duke Farms, 1112 Duke Parkway West, Hillsborough, NJ - the location of new incubator farm. The event is free and open to the public. Please park in designated areas. Leave time to visit Duke Farms and have lunch at the Garden Café at the Duke Farms Orientation Center!

For more information on the Beginner Farmer Program, along with other NOFA NJ programs and events, please visit the NOFA-NJ Website at

www.nofanj.org

.

The Incubator Farm is supported by the Beginning Farmer and Rancher Development Program of the National Institute of Food and Agriculture, USDA, Grant #2011-49400-30739.

October 12, 2013
Artist Reception — Sarah Kaizar: In Danger and Stacy Levy: Rain Yard
The Schuylkill Center for Environmental Education
Stacy Levy's Rain Yard is an interactive artwork and rain garden now on permanent display in the Schuylkill Center's Discovery Garden. This innovative artwork serves both a practical function—mitigating stormwater runoff from our building—and an interpretive function—highlighting the critical role that soil and plants play in the water cycle. There are currently 454 animal species on the U.S. endangered species list. Artist Sarah Kaizar showcases many of them with In Danger, a stunning collection of pen and ink drawings. Her delicate renderings capture the animals' wide range of forms, patterns, textures and personalities, highlighting both their beauty and vulnerability. In Danger will be on view in the Schuylkill Center's gallery October 3 –January 4. Free admission
October 12, 2013
International Observe the Moon Night
6 p.m. to 10 p.m.
ChesLen Preserve
1199 Cannery Road
Unionville, PA
Join Delaware Astronomical Society and Natural Lands Trust for International Observe the Moon Night!
Get to know our nearest celestial neighbor through presentations on the moon's origin, phases, and surface. Then head outdoors to observe the moon's most fascinating features with Delaware Astronomical Society's expert astronomers. You'll discover features of the moon including globular clusters, nebulae, supernova remnants and more.
This event is FREE and pre-registration is not required.
Learn more...
October 16, 2013
Green Fence: Obstacles and Opportunities
ANJR's 33rd Recycling Symposium & Awards Luncheon
Jumping Brook Country Club
Neptune, NJ
October 16, 2013
Chevron Supplier Forum
Noon to 4 p.m
.
October 16-17, 2013
New Jersey Association for Floodplain Management annual conference
The Revel
Atlantic City
It's the premier floodplain management conference in the Northeast. With more than 40 speakers and several hundred participants, this is the conference that regional floodplain managers from the public and private sector plan to attend. In addition, many consulting firms and product vendors associated with floodplain management attend as well.The annual conference provides an opportunity for professionals in the fields of engineering, hydrology, geology, planning, code enforcement, floodplain management and emergency management to participate in Plenary Sessions and concurrent sessions on a broad range of relevant topics. The NJAFM conference also includes a number of training opportunities and networking events. Visit the NJAFM Annual Conference webpage for more information on conference registration, abstract submissions, exhibitor and sponsorship opportunities, Local Official and Student scholarships, and more! To register for the conference, click here. Register by July 31 to get the early-bird discount!!


October 16- 18, 2013
2013 Paper Recycling Conference
Chicago, Il
Check out the entire program by clicking here or by visiting PaperRecyclingConference.com
October 16-19, 2013
Rutgers: Methodology for Delineating Wetlands
Basking Ridge and Cream Ridge, NJ
How you can help us to grow...

1. Sign up for free email updates (using the easy form in the top- right corner
2. Forward the calendar to your friends and colleagues. For help, click on Tell-A-Friend in the lower-right column
3. Mention us on Facebook or in your next tweet
-------------------------------------------------------------------------------------------------------------------
October 17, 2013
New Jersey Solar Market Update
8 a.m. to 8:30 a.m. -- Registration and networking breakfast
8:30 a.m. to 10:30 a.m. -- Presentation

T

hanks to aggressive new legislation, New Jersey's SREC market has stabilized and New Jersey continues to be one of the most dynamic and fastest growing solar markets in the country.

New legislation and subsequent regulatory actions have resulted in significant improvements to New Jersey's solar landscape.
Please join our solar industry leaders for an interactive discussion and analysis of the current solar energy market in New Jersey. This enlightening program will assist owners, developers, lenders and investors in navigating New Jersey\'s ever-changing solar marketplace.
Keynote Presentation by Senator Bob Smith.
Panelists include
:
Scott Hunter
, Renewable Energy Program Administrator, New Jersey Board of Public Utilities;
Stephen Kisker
, Chair, Wolff & Samson Renewable Energy and Sustainability Group, and
George Livanos
, Practice Leader, Sax Macy Fromm & Co. Renewable Energy Industry Service Group.
Moderator:
Fred DeSanti
, President, mc2 Public Affairs LLC

October 17, 2013
New Pig Energy Open House Event
10 a.m. – 2 p.m.
New Pig Energy Sales Offices
Tyrone, PA Located in the heart of Marcellus Shale country, come see how our secondary containment products can help keep your worksite incident-free. Event Highlights: Regulatory Overview — SPCC, PPC, Spill Policy, and PA Act 13 information; PIG Well Pad Liner Classroom — Instruction on best practices for seaming, patching, and berming, and Test Pad Site Visit – Live demonstrations on recycling and new product introductions. Who is New Pig Energy? New Pig Energy (NPE) is a wholly owned subsidiary of New Pig Corporation, the world leader in liquid containment for more than 27 years. NPE was created to focus resources on providing the best and safest secondary containment for drilling and hydraulic fracturing throughout the United State

s.
October 17, 2013
Rutgers: Environmental Forensics
Environmental forensics is a multidisciplinary field with the goal of understanding how and when contamination occurred, as well as who is responsible for the pollution. Environmental forensics investigations may involve identifying and apportioning responsibility among multiple parties, age-dating releases and/or determining exactly how a release occurred with reference to insurance or other contractual issues.
October 17, 2013
The Effects of Geologic Conditions of Geothermal Heat Pump Systems in New York City
Presented by Alex Posner, Project Director and Brett Miller, PE
La Quinta Inn, Somerset (formerly Ramada)
60 Cottontail Lane, Somerset, NJ 08873
Fee: $30 for AEG or SAME members, $35 for non-members and $5 for students with RSVP. Cash or check (payable to AEG) only, payment at the door.

Please RSVP, End of Business Monday, October 14, 2013 to Curt Schmidt at

schmidtcas@aol.com

or Rose DeLorenzo at

rdelorenzo@matrixneworld.com

. No shows will be charged.

One professional development hour (pdh) for continuing education credit (CEC) will be awarded for attending the presentation. Please request certificate when you RSVP


October 17, 2013
Rutgers: Introduction to Wetland Identification
In this one-day combination classroom and field course, a nationally recognized wetlands expert will review the skills you need to identify freshwater wetlands and their boundaries and introduce you to wetland plant identification and soil recognition. You will learn: Why wetlands are important; How they differ; What indicators are used for wetland identification, and What about current regulations in New Jersey
October 18, 2013

Advanced Petroleum Forensics Geochemistry

Learn advanced forensics techniques for petroleum releases of gasoline and distillates. Since so many oil impacted sites are old and comingled with other contaminants, this training program is particularly relevant for practicing LSRPs.
http://www.cpe.rutgers.edu/courses/current/el0402ca.html
October 18, 2013
EIA 2013 Fall Technical Seminar
Hyatt Regency San Antonio Riverwalk
The Environmental Information Association is excited to be holding the 2013 Fall Technical Seminar in San Antonio! With a spectacular location directly on the River Walk that over looks the historic Alamo mission, the Hyatt Regency San Antonio offers luxurious accommodations at our special EIA conference rate! The downtown location features genuine Texas hospitality and a prime location in the heart of the River Walk, for our EIA San Antonio, TX adventure. Information and Registration

October 21, 2013
Pond Maintenance to Prevent Weeds and Algae
6:30 p.m. - 7:30 p.m.
Rutgers Cooperative Extension of Cumberland County
291 Morton Ave.
Millville, NJ
What can be done to prevent the excessive weeds and algae that are often perennial problems in so many of our lakes and ponds? Does barley straw really work? And what can I do about Canada geese?
Details and contact information:

Flyer

See other programs here
October 23, 2013

Pond Maintenance to Prevent Weeds and Algae

6:30 p.m. - 7:30 p.m.

Rutgers Cooperative Extension of Salem County

51 Cheney Rd.

Woodstown, NJ

What can be done to prevent the excessive weeds and algae that are often perennial problems in so many of our lakes and ponds? Does barley straw really work? And what can I do about Canada geese?
Details and contact information:
Flyer



October 24, 2013
Geology of the Pine Barrens
7 p.m.
Pinelands Preservation Alliance
17 Pemberton Road, Southampton NJ, 08088
Come learn about the geology of the Pine Barrens and beyond. Join geologist and PPA staff member, Rich Bizub as he discusses approximately 150 million years of geologic history that shaped the area as we know it today. Topics will include the various geologic units, fossils, marine life, sea level changes, the Ice Age and glaciers.
Cost is $10/person
. Registration required, call Tom at 609-859-8860 x14 or register online here.
October 24, 2013

PADEP Regional Keystone Energy Education Program Workshop

Sign-in: 8:15 a.m.
Program: 8:30 a.m. to 4 p.m.
Pennsylvania College of Technology's General Services Building
2245 Reach Road
Williamsport, Lycoming County, Pa
Registration is free
The Department of Environmental Protection invites middle school teachers, administrators and building managers to a training workshop on the Keystone Energy Education Program (KEEP) to teach and track energy efficiency in school buildings and homes.
KEEP is geared to middle school building teams, which includes three teachers of grades 5, 6 or 7, an administrator and a building maintenance manager. Workshop participants will learn about and explore energy issues, including fundamentals and impacts, electricity generation, transportation fuels, careers, energy conservation, student teams and school building energy benchmarking through presentations, tours and hands-on activities.
Each team will have the opportunity to integrate high level, standards-based energy education into their formal curriculum. This could include lesson plans, curricular modules and ongoing benchmarking through DOE's Energy Star Portfolio Manager, resulting in energy efficiency assessments leading to improvements that reduce energy consumption.
The workshops are based on Pennsylvania's Academic Standards and Assessment Anchors for Environment and Ecology, Science and Technology and Engineering Education. Participating teachers will receive background information, standards-based curricular materials and energy conservation material kits.
Participating teachers will be eligible for seven Act 48 credit hours.
Space is limited, so registrations will be accepted on a first-come, first-serve basis. The deadline to register is Oct. 11. For more information or registration materials, phone KEEP Coordinator Susan Gove: 412-431-1010 or email:
sgove@gove.org
.
October 25-26, 2013
Halloween Hikes & Hayrides
6 p.m. – 10 p.m.
The Schuylkill Center for Environmental Education
Take a magical walk through woods aglow with jack-o-lanterns, where you'll meet friendly talking animals eager to share their nocturnal ways. Enjoy a hayride along a woodland road, a campfire, s'mores, and pumpkin painting, too. Don't miss this unique family-favorite—a Schuylkill Center tradition. $10/person (Hayride included) $40 max per family (Schuylkill Center members receive discounted admission)
Best to reserve a hike time in advance: 215-482-7300 x110.
-----------------------------------------------------------------------------------------------------------------------
For free publication, send your event information to: editor@enviropolitics.com
-----------------------------------------------------------------------------------------------------------------------

October 29- November 1, 2013


OSHA 40/24/8 Hour HAZWOPER Training


Federal regulations require all employees who work on sites that may expose them to hazardous substances or health hazards receive training allowing them to work safely, knowledgeably and effectively. Our classes meet all federal requirements for the initial 40-hour, 24-hour or the 8-hour annual refresher training set forth under OSHA's Hazardous Waste Operations and Emergency Response (HAZWOPER) Regulation [29 CFR 1910.120(e)] for public and private employees covered by these regulations.
http://www.cpe.rutgers.edu/courses/current/ep0403ca.html

October 29, 2013
Nature Uncorked! Strange and Scary Animals: A Halloween Special
The Schuylkill Center for Environmental Education
Philadelphia, PA 19128It's the season of all things ghoulish. We'll uncork a bottle of wine and share the weirdly wonderful stories of scary animals and plants: the lethal weed that killed Abe Lincoln's mother, the truth behind vampire bats, a massive wasp that feeds on—gulp!—tarantulas, and the world's deadliest animal. You'll also meet two very Halloween-ish characters—a vulture and a great horned owl—live and in person. It's a special adults-only celebration of that master of the macabre, Mother Nature. Cost: $18 (Schuylkill Center members receive discounted admission) Registration required. Call 215-482-7300 x 110.
Nov 7, 14
, 21 and Dec 5, 2013 (4 consecutive Thursday evenings)
ArcGIS: Editing and Data Development
Rutgers University, New Brunswick, NJ
If you have completed the
ArcGIS: Introduction
course or if you are familiar with the toolbars and basic functions of Arc Map and Arc Catalog, you are qualified to take this course. This course will guide you through real world editing tasks and data management processes that are vital for intermediate GIS users to know. More information:
http://www.cpe.rutgers.edu/courses/current/eg0915ca.html


November 14, 2013
PlanSmart NJ's 45th Annual Dinner and Awards
5:30 p.m. to 9:30 p.m.
The Heldrich,
New Brunswick, NJ
Please join us in congratulating this year's award recipients. For more information click here.
Click here for
Sponsorship Opportunities
. PlanSmart NJ is an independent, non-profit planning, education, and research organization committed to improving the quality of community life through the advancement of sound land use planning and regional cooperation.
November 14-15, 2013
Rutgers: Lake Management
Nov 14-15, 2013
Hillsborough, NJ
Whether you are a lake manager or a lake resident, an ecologist or an engineer, this popular two-day course is for you. From small ponds to large lakes, drinking water reservoirs to fishing lakes, if you want your lake and watershed management efforts to be successful you need a technically sound foundation. This course will give you the training needed to properly investigate and diagnose lake quality problems and to develop and implement cost-effective, restoration measures.
More information here
December 3, 2013
Underground Storage Tanks
If you work on USTs, you need this course! Whether you are becoming certified for the first time or just need to recertify, you will get the regulatory information you need to stay current with New Jersey's UST requirements and help your clients or employer avoid potential penalty liability.
http://www.cpe.rutgers.edu/courses/current/ew0201cb.html
December 4 2013
NJDEP Flood Hazard Area Control Act Rules
This one-day seminar is designed to present an overview of NJ's Flood Hazard Area Control Act Rules (N.J.A.C. 7:13). Instructors will discuss these rules in detail, and will answer questions regarding the technical issues and regulatory requirements involved in obtaining flood hazard area permits. DEP staff will provide information on the recently adopted emergency rules aimed at promoting re-construction for Hurricane Sandy related projects. In addition, presenters will provide information on additional proposed changes to the Flood Hazard Regulations.
http://www.cpe.rutgers.edu/courses/current/en0404ca.html
December 11, 2013
Innovative Technologies for Site Remediation
This one-day program will provide you with the basics of performing successful remediation using a variety of innovative in situ technologies as well as present "real" site data derived from actual innovative technologies projects. The course will focus on choosing the "right" technology or combination of technologies, as well as delivery methods for given site conditions.
http://www.cpe.rutgers.edu/courses/current/en0510ca.html
January 22, 2014
NJDEP Case Study Training for LSRPs
This interactive one-day workshop will engage Licensed Site Remediation Professionals (LSRPs) and other environmental professionals to work through a typical Site Remediation Program (SRP) Case starting with an ISRA triggering event, through all the phases of remediation (PA/SI/RI and RA), including applying for and implementing a remedial action permit and culminating in the issuance of an RAO. The participants will use the various tools, guidance and resources provided by the New Jersey Department of Environmental Protection (NJDEP) to ensure all forms, and documents are properly prepared and submitted within the applicable timeframes established in ARRCS and the Tech Rules.
http://www.cpe.rutgers.edu/courses/current/en0514cb.html
-----------------------------------------------------------------------------------------------------------------------