Environmental seminars, forums, education, networking and social opportunities in New Jersey, Pennsylvania, New York & Delaware
For free publication, send your event information to: editor@enviropolitics.com
May 5, 2014
Backyard Beekeeping and Your Garden - Homeowners' Class
Presented by Rutgers Master Gardeners of Camden County
6:30 p.m.
Camden County

Boat House
Cooper River just off of Rt. 130 at 7050 N Park Dr,
Pennsauken Township, NJ 08109.
Learn about the state of beekeeping in S. Jersey and what is involved with being a beekeeper. See a demonstration hive. Learn about flowers to encourage honeybees in your garden. The speakers are Ned Morgan, President of the S. Jersey Chapter of the NJ Beekeepers Association and Doris Morgan, Rutgers Cumberland County Master Gardener. Advance registration requested. Cost is $10 per household. For more information, call 856-216-7130, email njgarden@camdencounty.com or go to the website http://camden.njaes.rutgers.edu/garden/



May 7, 2014
2014 Pennsylvania Groundwater Symposium
Ramada Inn C
onference Center
State College, Pa.
In celebration of National Drinking Water Week, Penn State Extension's

Master Well Owner Network

, the Department of Environmental Protection and the

PA Ground Water Association

along with numerous other sponsors are organizing the

2014 Pennsylvania Groundwater Symposium. The Symposium theme: Building Groundwater Knowledge through Monitoring will provide a forum for researchers, students, professionals and educators working in the groundwater field to exchange information and promote protection of groundwater resources.Thanks to generous support from sponsors, the daylong symposium including refreshments and lunch will only cost $30! We hope you can join us for this event showcasing Pennsylvania's valuable groundwater resource! Learn more at the

Conference website

.
May 7, 2014 Green Drinks
6 p.m. -8 p.m.
PJ Whelihans,
Rt. 70 & Greentree Road
Cherry Hill, NJ
Think Global. Drink Local. SCH has its own chapter of this popular social and business networking happy hour that brings together a wide array of green minded people each month over beverages to discuss sustainable solutions, ideas, concepts and much more. Note: SCH provides the "GREEN" opportunity to network, but not the "DRINKS"! Everyone either runs a tab or pays by the drink.



May 8, 15, 22, 2014
Practical Applications in Hydrogeology
8:30 a.m. - 4:30 p.m.
New Brunswick, NJ (Rutgers University – Ralph Geiger Education Center)
This informative program will familiarize you with the theory and practice of hydrogeology, including guiding principles, basic mathematical principles, the identification of problems, the application of different groundwater models, and the limitations of those models. The structure of the course allows you to analyze assigned problems during the week between lecture sessions. More information
May 8, 2014
Energy Policy Perspective
Sponsored by the Southern New Jersey Development Council
9:30 a.m. - 11 a.m.
Richard Stockton College of New Jersey
101 Vera King Ferris Drive
F Wing, Room 111
Galloway, NJ 08205
More information and Registration here
-----------------------------------------------------------------------------------------------------------
-------------------------------------------------------------------------------------------------
---------
May 13, 2014
OSHA 8 Hour HAZWOPER Training
8:30 a.m. - 4:30 p.m.
Newton, NJ (Sussex County Public Safety Training Academy)
If you're covered by OSHA's Hazardous Waste Operations and Emergency Response (HAZWOPER) Regulation, this program will help you meet the 8-hour annual refresher training requirements.


May 13, 2014
Herbal Tea Gardens—Therapeutic Teas from the Garden
Monthly Horticultural Society of South Jersey meeting
7 p.m.
Carmen Tilelli Community Center
820 Mercer Street, Cherry Hill, NJ 08002
Elaine Shaughnessy has served as Director on the Board for the Alliance of International Aromatherapists and as Vice Chairperson of the Herb Society of America—South Jersey Unit. Come and learn about the uses of various herbs that you can grow in your own garden. Herbal teas can cure your ills, warm or cool your body and soothe your soul. Free and open to the public. For more information, visit the
website
.
__________________________________________________________________

For free publication, send your event information to: editor@enviropolitics.com
__________________________________________________________________
May 14, 2014
New Jersey WasteWise Business Network 9:30 a.m. to Noon
New Jersey Forensic Science Technology Center Auditorium
1200 Negron Drive, Hamilton, NJ 08691
9:30 a.m. -Welcome and Update – Steve Rinaldi, Chair, NJDEP, Bureau of Recycling and Planning
9:40 a.m. -The Sustainable Business Initiative – Athena Sarafides, NJDEP, Office of Sustainability and Green Energy.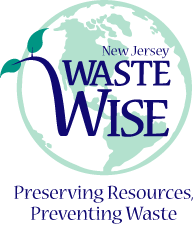 10:10 a.m. - Computer Reuse for the Advancement of Education – Mark DeTroia, President and Co-Founder, Computers for Kids of America
10:55 a.m. - Domestic and International Recyclable Paper Markets – George Chen, President, New Jersey Paper Recycling Association
11:25 a.m. - Miele Inc. Sustainability Initiatives for Recycling, Waste Reduction and Environmental Responsibility - Steve Polinski, Senior Manager for Regulatory Affairs and Lauren Tait, Manager of Administrative Services, Miele, Inc.
11:55 p.m. - Open Discussion
No fee
charged to attend.
NJ Certified Recycling Professionals will earn 2.5
re-certification
credits for attending.
Note: GPS and Driving Directions – If for some reason, your GPS does not recognize 1200 Negron Drive in Hamilton, NJ, 08691, please try Horizon Drive, Hamilton NJ 08691. The facility is in the Horizon Center on Rt. 130.
May 15, 2014
Leadership Training for Sustainable School Stakeholders
'Creating a Culture of Sustainability'
9 a.m. - 4 p.m. – Continental breakfast & lunch provided
Stockton College
Galloway, NJ
Three-part daytime series (select any combo of the following)
9 -11 Sustainable Policy Development; Where are you now and where do you need to go?
11:30-1:30 Developing a Sustainability Action Plan; How to get from here to there.
2–4 Implementation, Tracking, and Evaluating Sustainability Action Plans: Are we there?
School Personnel: School Board Members, School Staff, including Facilities Staff - $75.00

Professional Service Provider

: $100.00

CEUs: This course may be used for self-reporting to GBCI (Green Building Certification Institute). Each of these workshops would likely qualify for 2 self-reported GBCI credential maintenance units. MORE INFO & REGISTRATION.
May 15, 2014
Alternative Funding – Sustainable Schools
Stay Out of the Red by Operating in the Green
Evening Session for School Board Members
6: p.m. - 9 p.m. – Dinner provided
Stockton College
Galloway, NJ
This workshop will provide an overview of sustainability and why it's so important for the leadership of any school to understand how strategic actions can result in a high performing school that will save money and benefit the entire community. One focus of this workshop will be on how to utilize Leadership in Energy and Environmental Design (LEED), Green Ribbon Schools, Sustainable Jersey for Schools and other successful programs as a framework for planning, implementing and monitoring financial, environmental and academic connections for sustainability. A tour will be available for BCC's state of the art sustainability labs at the Center for Sustainability and Alternative Energy.
MORE INFO & REGISTRATION
May 16, 2014
NJ Chamber of Commerce Roundtable Breakfast
8:30 a.m. to 10 a.m.
Forsgate Country Club
Monroe, NJ
Member price $70; non-member price $115.
Click here to register.

May 17, 2014
GREENFEST
10 a.m. to 4 p.m.
Galloway Township Municipal Complex grounds
300 E. Jimmie Leeds Road
Galloway, NJ
Galloway's green team, Go Green Galloway, along with the Absecon Green Team and the Earth Shepherd Group from Absegami High School, will be holding their 2nd annual
GREENFEST
on May 17
.
The newly-formed Port Republic Green Team and Pleasantville Green Team will also participate. This year's theme is GET OUT AND PLAY! and will focus on healthy, sustainable lifestyles. There will be workshops, many fun activities for children, music, magic and merriment! We still have space for both non-profit and for-profit vendors.
Please contact Barbara Fiedler at
bfiedler@gtnj.org
for a vendor application
. Non-profits table for free and the fee for for-profit businesses is $25. We are also looking for vendor of healthy foods! The fee for food vendors is $25.


May 17, 2014
Earth Day Celebration and Shredding Event
Sponsored by Sustainable Maple Shade
Maple Shade Township Building
Join Sustainable Maple Shade as we celebrate the environment at our first ever Earth Day Celebration and Shredding Event. There will be food, fun, demonstrations and many different vendors talking about sustainability and teaching you how to help make the earth a better place to live. Residents can bring up to one box of items to be shredded; no businesses, plastic folders, carbon paper or photos, please.
For more information, email htalarico115@yahoo.com or call 609-975-6260.



-------------------------------------------------------------------------------------------------------
How you can help us to grow...

1. Sign up for free email updates (using form in top- right corner)
2. Forward the calendar to your friends and colleagues
3. Use the icons below to mention us on Facebook or Twitter




-------------------------------------------------------------------------------------------
--------------
May 20, 2014
Alternative Energy for Water and Wastewater Operations
New Brunswick, NJ (Rutgers University – Ralph Geiger Education Center)
Learn about materials and devices used in alternative energy systems, conversion, storage and generation, from photovoltaics and fuel cells to super capacitors, in this introductory course.

More information


















May 22, 2014
A gathering to celebrate the preservation of Francisco Farm.
3 p.m. at Francisco Farm
9 Prospect Street
Andover Borough, NJ 07821
The Trust for Public Land and partners conserved
Francisco Farm
for everyone to enjoy. The rolling fields and hilltop were once slated for development and would have forever changed the scenic beauty of the area. This land is now protected as Andover Borough park land and an addition to Kittatinny Valley State Park.
Come early to explore this scenic open space. A brief program will begin at 3:00 p.m.
For more information and to RSVP, please contact Sue Randall at
sue.randall@tpl.org
or 973.292.1100, ext. 11.
Try our information-packed
daily newsletter,

EnviroPolitics

,
free for for an entire month
June 7, 2014
Lancaster Farmland Trust's Pedal

to

Preserve

2014
433 South Kinzer Avenue
New Holland, PA 17557

7 a.m. Registration

8 a.m. Departure for 51 mile ride

9 a.m. Departure for 20 mile ride

9:30 a.m. Departure for 6 mile ride.

Celebrate farmland preservation with
Lancaster Farmland Trust
's Pedal to Preserve 2014. With distances of 6, 20, and 51 miles, these 3 leisure routes provide scenic views of more than 75 preserved farms in the heart of beautiful Lancaster County, Pennsylvania. For families, novice riders, and experienced cyclists, this event offers fun for all ages and abilities. Pedal to Preserve 2013 is a leisure ride, not a race. Marked routes, SAG support, breakfast snacks, rest stops, and lunch are included in your registration.
Register
Questions?
Contact LFT at
717-687-8484
or
kdickerson@lancasterfarmlandtrust.org
June 10-11, 2014
NJDEP Air Quality Permitting Seminar
New Brunswick, NJ (Rutgers University – Cook Campus Center)
All industry, consultant and municipal staff responsible for writing Air Permits should attend this workshop to stay current with new regulations and maintain compliance with all of the NJ's air permitting regulations. You'll learn what permits you need, how to get them and what to do after you have them. You'll also get an "insider's guide" to the NJDEP website and how to streamline the permit application process online.

More
June 25-26, 2014
Septic Inspections in New Jersey
Day 1: 8:30 a.m. - 3:45 p.m.
Day 2: 8:30 a.m. - 12:30 p.m.
New Brunswick, NJ (Rutgers University – Ralph Geiger Education Center)
Assessing "out-of-sight" and "out-of-mind" septic systems can be a daunting task when an inspection is called for. Based on NJDEP's published guidelines on septic inspections, you'll learn the steps of the inspection sequence, step-by-step report writing, the pros and cons of various test methods the related science and research on the individual components. A visit to an active septic system will be included.

More information


August 3-7, 2014
Stormwater Conference and Expo
The Oregon Convention Center


September 20-24, 2014
Climate Ride NYC-DC
New York City, NY to Washington DC
Climate Ride NYC-DC is a grand cycling adventure that connects two of the nation's most important cities – New York and Washington, DC – by bicycle. From the exciting departure by ferry in Manhattan to the hero's welcome and rally at the steps of the US Capitol, the east-coast version of Climate Ride is more than a bike trip – it's an inspiring journey with 200 like-minded people who are united by their passion for sustainability, renewable energy, and bicycles - the ultimate carbon-free form of transportation. On the NYC-DC ride, you'll spend five days cycling through rich green countryside and historic towns. You'll find out why they call New Jersey "The Garden State" as you cycle through the lush landscape. You'll explore the historic Delaware River Valley, discover Pennsylvania's Amish country, and pedal through horse country in Maryland before arriving at the Capitol in Washington DC. Evening programs and dynamic speakers combine with world-class riding to make this charitable event exciting, informative, and fun. Climate Ride takes care of all the details, so you can focus on riding the 45-70 miles per day of carefully planned routes on back roads that meander through the countryside. It's challenging yet doable, and you have all day to make it to the next rest stop. The ride has followed the same route between the two cities since the first Climate Ride in 2008, although portions change from year to year. The Climate Ride support team is always nearby to assist you, keep you happy and healthy, and make your ride worry-free and memorable. Registration: Open
Website: http://www.Climateride.org
__________________________________________________________________

For free publication, send your event information to: editor@enviropolitics.com
__________________________________________________________________
October 2, 9, 16, 23, 2014
ArcGIS Introduction – Hands-on Mapping Course
New Brunswick, NJ (Rutgers University – Env & Natural Resource Center Lab)
With a focus on layout and core functionality, this 12-hour evening program offers an overview of ArcGIS components, basic display and map querying functions, metadata browsing, file management, basic analysis techniques and map layout through practical, in-class exercises. Includes a one-year free trial of ArcGIS 10 software. More information:
http://www.cpe.rutgers.edu/courses/current/eg0914ca.html
October 9-10, 2014
Passaic River Symposium VI

Organized by the Passaic River Institute of Montclair State University
Montclair State University Conference Center
1 Normal Ave., Montclair, NJ
The sixth Passaic River Symposium
will be an event featuring environmental management, watershed science, and the Lower Passaic River Restoration Project. The symposium will include invited keynote speakers and plenary sessions/presentations on all aspects of environmental management challenges relevant to the Passaic River Basin and other regional watersheds. This conference year will focus on sediment remediation, environmental monitoring results, flooding, ecosystem restoration, and environmental advocacy and public outreach efforts. Projects in the upper River and tributary watersheds will also play a prominent role in this conference.
On-line registration and mail-in registration forms are now available
here
. Mail registrations must be postmarked by September 26, 2014. On-line registrations will be accepted until September 28, 2014. Payment by credit card, check, or purchase order only. Registration fees (includes continental breakfast, lunch and book of abstracts)
Try our information-packed
daily newsletter,
EnviroPolitics

,
free for for an entire month!




October 21, 2014
NJDEP Case Study Training for LSRPs
New Brunswick, NJ (Rutgers University – Douglass Campus Center)
This interactive one-day workshop will engage Licensed Site Remediation Professionals (LSRPs) and other environmental professionals to work through a typical Site Remediation Program (SRP) Case starting with an ISRA triggering event, through all the phases of remediation (PA/SI/RI and RA), including applying for and implementing a remedial action permit and culminating in the issuance of an RAO.
More information:
http://www.cpe.rutgers.edu/courses/current/en0514ca.html


November 6, 13, 20 and December 4, 2014
ArcGIS Edition & Data Development
New Brunswick, NJ (Rutgers University – Env & Natural Resource Center Lab)
For those familiar with ArcGIS mapping software, including its toolbars and functions of Arc Map and Arc Catalog, this 12-hour evening program will guide you through real world editing and data management processes that are vital for intermediate GIS users to know. Includes a one-year free trial of ArcGIS 10 software.
More information:
http://www.cpe.rutgers.edu/courses/current/eg0915ca.html
-------------------------------------------------------------------------------------------------------