Environmental seminars, forums, education, networking and social opportunities in New Jersey, Pennsylvania, New York
& Delaware
Blue Banyan Yoga Retreat
9 a.m. – 11 a.m. - $40
Schuylkill Center for Environmental Education
8480 Hagy's Mill Road
Philadelphia, PA 19128
(t) 215.482.7300 x. 118
The change in seasons can have profound effects on our bodies and psyches. Tune into nature's flow and re-balance your body and mind with this special yoga retreat. Sophie Simpson, of Blue Banyan Yoga in Mt. Airy, guides you through two hours of yoga, breath work, and mental quieting—all outdoors amid the beauty of nature. Pre-registration required. More information
available here


September 20, 2014
City Green 10th Anniversary Celebration!
City Green Schultheis Farm Location
171 Grove Street-Clifton-NJ-07013
The event will start with a cocktail hour with live music in the Learning Farm. Explore the native flower gardens, and the whimsical features of this unique space that hosts school field trips, summer farm camp, preschool programs, environmental education workshops and more! A sunset Farm to Table Dinner will follow. Local chefs will prepare a seasonal menu featuring City Green's fresh-picked organic produce. Individual tickets to the event are $75. Table purchase (8 per table) is $500 Visit www.citygreenonline.org to purchase tickets.
Questions?
Call City Green at 973.869.4086 or email
info@city-green.org
City Green, Inc. is a 501(c)3 non-profit organization dedicated to facilitating the establishment of urban farms and gardens in northern New Jersey's cities to enrich the lives of inner city residents, while cultivating education in public health, nutrition and the environment. City Green offers practical, technical and financial support to community members of all ages to design, create and manage these urban green spaces. City Green promotes social justice and environmental equality through these greening efforts.

September 20-24, 2014
Climate Ride NYC-DC
New York City, NY to Washington DC
Climate Ride NYC-DC is a grand cycling adventure that connects two of the nation's most important cities – New York and Washington, DC – by bicycle. From the exciting departure by ferry in Manhattan to the hero's welcome and rally at the steps of the US Capitol, the east-coast version of Climate Ride is more than a bike trip – it's an inspiring journey with 200 like-minded people who are united by their passion for sustainability, renewable energy, and bicycles - the ultimate carbon-free form of transportation. On the NYC-DC ride, you'll spend five days cycling through rich green countryside and historic towns. You'll find out why they call New Jersey "The Garden State" as you cycle through the lush landscape. You'll explore the historic Delaware River Valley, discover Pennsylvania's Amish country, and pedal through horse country in Maryland before arriving at the Capitol in Washington DC. Evening programs and dynamic speakers combine with world-class riding to make this charitable event exciting, informative, and fun. Climate Ride takes care of all the details, so you can focus on riding the 45-70 miles per day of carefully planned routes on back roads that meander through the countryside. It's challenging yet doable, and you have all day to make it to the next rest stop. The ride has followed the same route between the two cities since the first Climate Ride in 2008, although portions change from year to year. The Climate Ride support team is always nearby to assist you, keep you happy and healthy, and make your ride worry-free and memorable. Registration: Open Website: http://www.Climateride.org
September 21, 2014
The People's Climate March
11:30 a.m.
New York City
Tens of thousands of people from 1,100 business, faith, community, environmental justice, parents, and environmental organizations calling for action on climate. (Begins at Columbus Circle and forms on Central Park West from W. 86th Street to Columbus Circle.
http://peoplesclimate.org/logistics
)
September 24, 2014
EBC Roundtable8 a.m.- 9:30 a.m.
PSEG Training & Development Center
234 Pierson Ave. Edison, NJ 08837
The EBC Environmental Roundtable meets the last Wednesday of every other month to discuss relevant environmental issues, regulatory changes and new developments that may impact our members provided by our sub-committees which focus on: Regulatory Affairs, Brownfields & Site Remediation, Natural Resource Damages, Water, Air, Environmental Technology, Sustainability, Energy, Enforcement & OSHA News and Regulations. Lanny Kurzweil, McCarter & English, LLP, Moderator. Tracy Straka, Creamer Environmental, EBC Chair No reservations or cancellations can be accepted after 9/23/14 Due to security procedures at PSE&G, please no walk-ins. Roundtables are complimentary to CIANJ members.

S
eptember 24, 2014
Free Webinar: Anaerobic Digestion of Organic Waste Streams
Speakers: Paul Relis and John McDowell
2 p.m.
The increasing demand of organics diversion from landfills is driving new opportunities and challenges for waste management companies. As such, the time is now to capitalize on the growing opportunities in organics diversion!
Join
Paul Relis,
John McDowell,
and a featured speaker for a
FREE
webinar exploring organics management and anaerobic digestion drivers, available technologies, and how you can integrate anaerobic digestion into your municipal solid waste processes to increase your economic AND environmental benefits.
In this webinar, we'll open our discussion with the
drivers of organics management and anaerobic digestion
, including the key regulations regarding organics diversion and food waste bans. We'll explore how these requirements foster a close evaluation of available options, and how you can identify which technologies are most suitable for your organization regarding
high solids anaerobic digestion of yard and food waste
. Plus, we'll discuss the key project factors to consider when realizing biogas plants – from feedstock security to financing and biogas utilization.
Finally, we'll hear from
waste hauler CR&R Environmental Services in California
, regarding their large scale anaerobic digestion project turning green waste into vehicle fuel powering their truck fleet. Register here
September 28, 2014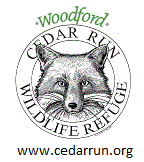 Hoot, Waddle & Stroll at Cedar Run
10 a.m.
Woodford Cedar Run Wildlife Refuge
4 Sawmill Road | Medford, NJ 08055

This is the date to save for all runners, families and lovers of wildlife and nature! At 10 a.m. our inaugural 5K Trail Run/Walk will kick off the day as runners lace up their sneaks and Hoot, Waddle & Stroll around our trails.

You can register for this event here

. Once the awards ceremony for the race concludes, we will move into our ever-growing Autumn with the Animals event, from Noon-4 p.m. More than 600 people attended this celebration in 2013. All ages will enjoy programs such as Hunters of the Sky, Naturalist Led Trail Hikes, Guided Tours of the Animals, and our Amazing Reptiles Show. Home Depot of Berlin will bring a nature-themed craft (available while supplies last) for children and Kathy Miller, author of the Chippy Chipmunk books, will lead story time and autograph books. Autumn with the Animals will include live music, make-it-and-take-it crafts, canoeing, and so much more! For information about Autumn with the Animals contact Denise Peters, 856.983.3329, x103 denise.peters@cedarrun.org. For information on becoming a sponsor of this extremely popular and lively event contact Elise Morgan at ext. 102 or elise.morgan@cedarrun.org.
September 27, 2014
University of Nature
10 a.m. – 4 p.m.
Schuylkill Center for Environmental Education
8480 Hagy's Mill Road
Philadelphia, PA 19128
(t) 215.482.7300 x. 118
$50, discounts for students and early registrations A special new program, University of Nature offers a one day conference with in-depth learning for experienced and beginner nature enthusiasts alike. Spend a beautiful fall day outside at the Schuylkill Center learning something new. With guided hikes, workshops, and lectures on topics ranging from botany, birds, and butterflies, to environmental art and the intersection between technology and the environment, the conference will be a unique gathering. Stay afterwards for the opening reception of the newest show in the environmental art gallery.More information available
here


September 27, 2014
Process & Progress: A LandLab Gallery Show
4 p.m. – 6 p.m. - Free
Schuylkill Center for Environmental Education
8480 Hagy's Mill Road
Philadelphia, PA 19128
(t) 215.482.7300 x. 118
Check in with our LandLab artist's midway through their residencies. This gallery show will feature information about their artistic process, past work from the artists that reveals the trajectory of their practice in environmental art, and completed LandLab work. LandLab is an environmental art residency program that integrates art and ecological restoration. More information available
here


September 30, 2014
New Jersey Chamber of Commerce Roundtable Breakfast
8:30 a.m. - 10 a.m.
Forsgate Country Club
Jamesburg, NJ
Topics include:
-- NJ Transit and Amtrak Priorities;
Transportation Trust Fund;
Light Rail Initiatives;
Northeast Corridor Update and
Station Upgrades.
Member price $70; Non-member price $115.
For questions, contact Candise Tanner
at
candise@njchamber.com
or (609) 989-7888 x121.
Register now
-----------------------------------------------------------------------------------------------------------
-------------------------------------------------------------------------------------------------
---------
October 1, 2014
Native Plants in Your Garden,

a Homeowners' Class
Sign-in; 6:30 p.m.
Lecture: 7 p.m.
Camden
County
Environmental
Center
1301 Park Boulevard
Cherry Hill, NJ 08002.
The speaker
is Becki Szkotak,Program Associate for Rutgers Cooperative Extension of Camden County as well as teacher and coordinator of the Rutgers Camden County Master Gardener Horticultural School.
Learn how to choose
native plants
for your garden
, design with them, be successful growing them and what fauna and beneficial insects they will attract to your garden.
Cost is $10 per household and pre-registration is strongly suggested. The cost is $10 per household.
For more
info
rmation
or to pre-register
, call 856-216-7130, email
njgarden@camdencounty.com
, or
visit
http://camden.njaes.rutgers.edu/garden/eventsforpublic.html

October 2, 2014






















Click here to attend

-

Become a Vendor




October 2, 9, 16, 23, 2014
ArcGIS Introduction – Hands-on Mapping Course
New Brunswick, NJ (Rutgers University – Env. & Natural Resource Center Lab)
With a focus on layout and core functionality, this 12-hour evening program offers an overview of ArcGIS components, basic display and map querying functions, metadata browsing, file management, basic analysis techniques and map layout through practical, in-class exercises. Includes a one-year free trial of ArcGIS 10 software. More information: http://www.cpe.rutgers.edu/courses/current/eg0914ca.html


October 4, 2014
Soil-Making in the Forest
2 p.m. – 4 p.m.
Schuylkill Center for Environmental Education
8480 Hagy's Mill Road
Philadelphia, PA 19128
(t) 215.482.7300 x. 118
Join LandLab resident artist Jake Beckman and other guests for an afternoon of information and activities that explore the processes of soil formation in our area. You'll be amazed by the complexity of this generally unseen world. A short informal lecture (with lots of pictures!) will be followed by a nature walk and demonstrations of several science experiments that you can do at home. Come and learn about the world beneath your feet. More information available
here


October 6, 2014
Environmental Forensics
9 a.m. - 4:30 p.m.
Rutgers Eco Complex
1200 Florence-Columbus Rd, Bordentown, NJ 08505
Environmental forensics is a multidisciplinary field with the goal of understanding how and when contamination occurred, as well as who is responsible for the pollution. Environmental forensics investigations may involve identifying and apportioning responsibility among multiple parties, age-dating releases and/or determining exactly how a release occurred with reference to insurance or other contractual issues. Determining the date when problems first began is important because it allows attorneys and courts to determine who is responsible for the cleanup, insurance companies to determine whether or not an environmental claim occurred during their policy periods and government officials to determine who is responsible for recouping expended government funds.


October 7, 2014
Tackling the Skilled Workers Shortage in Manufacturing
4:30 p.m. - 6 p.m.

Bergen Community College

400 Paramus Road, Paramus, NJ 07652
Can't find machinists, plumbers or welders? One of New Jersey's core strengths as a place to do business is our well educated workforce. Manufacturers throughout New Jersey say there is a "talent deficit" and it is fast becoming one of the biggest issues in the industry across the nation. By developing effective strategies to fill these positions today and feed into a pipeline for tomorrow, we will once again uncover a key advantage of choosing New Jersey.
Join the CIANJ Manufacturing Roundtable as we explore immediate steps and long-term solutions to recruit these hard to find workers. Officials from the state Department of Labor and Workforce Development will delve into the resources they can provide, such as on-the-job-training grants.
This roundtable aims to be a springboard to a new relationship between educators and employers that will produce a better workforce and make students and their families aware of the good careers in trades.
Register here
October 7-9, 2014
RTM Communications, Inc. Philadelphia Conference:

Sustainable Property Transactions: Closing Deals and Capturing Market Opportunities
Sheraton Philadelphia Society Hill Hotel
One Dock Street, (2nd and Walnut)
Philadelphia, PA 19106 USA

This RTM conference zeroe

s in on deal flow of corporate and local government property types, business tactics and strategies for reducing the uncertainty caused by environmental risk and closing the deals employing creative environmental risk management approaches. The Conference will also delve into facilitating dynamic energy transactions and sustainable brownfield redevelopments that include the siting and financing of renewable energy/clean technology, the business, regulatory and environmental risk management issues pertinent to hydraulic fracturing and shale gas production and the opportunities and risks of performing sustainable/green remediation at complex sites including former manufacturing sites, defense sites and port terminals.

If there is only one conference you can attend this year this is the ONE that will allow practitioners to capitalize on business strategies and tactics for closing corporate real estate transactions where environmental risk gets properly managed.

Click here to read more information




For free publication, send your event information to:

editor@enviropolitics.com

October 8-10, 2014

October 8, 15, 22, 2014
Combining Engineered Contaminant Source Area Treatment Technologies
and MNA for Site Cleanup Under the LSRP Program
*New Course*
8:30 a.m.- 4:30 p.m.
Cook Campus Center, New Brunswick, NJ
Rutgers University
If you are an LSRP and desire practical solutions to common technical issues facing environmental professionals under SRRA/ARRCs, this course is for you! This newly developed three-day program provides practical guidance on integrating source area controls with monitored natural attenuation (MNA) of impacted groundwater and relevant NJDEP Guidance. More information:
http://www.cpe.rutgers.edu/courses/current/en0517ca.html
October 9-10, 2014
Montclair State University Conference Center
1 Normal Ave., Montclair, NJ
The sixth Passaic River Symposium will be an event featuring environmental management, watershed science, and the Lower Passaic River Restoration Project. The symposium will include invited keynote speakers and plenary sessions/presentations on all aspects of environmental management challenges relevant to the Passaic River Basin and other regional watersheds. This conference year will focus on sediment remediation, environmental monitoring results, flooding, ecosystem restoration, and environmental advocacy and public outreach efforts. Projects in the upper River and tributary watersheds will also play a prominent role in this conference. On-line registration and mail-in registration forms are now available here. Mail registrations must be postmarked by September 26, 2014. On-line registrations will be accepted until September 28, 2014. Payment by credit card, check, or purchase order only. Registration fees (includes continental breakfast, lunch and book of abstracts). Abstracts are sought for platform (oral) presentations and posters on any studies relevant to environmental management, urban sustainability, the Passaic River Basin and

regional

watershed environments. Abstracts will be selected for presentation based on their scientific, technical and policy merit and relevance to the Symposium topic. Platform presentation length will be 20 minutes. A book of abstracts will be distributed at the conference and placed on the conference website following the conference. All symposium presenters are required to register for the conference. Instructions for submitting an abstract can be found on the Symposium website.

Abstract submittal deadline EXTENSION: July 15, 2014

Notification of acceptance: August 1, 2014

Direct any inquires or questions to Dr. Meiyin Wu, Director of the Passaic River Institute and chair of the Symposium at

pri@mail.montclair.edu

or 973-655-5423.
Penn's Landing - Photo:Partnership for the Delaware Estuary
















October 9, 2014
Experience the Estuary Celebration
5 p.m. to 8:30 p.m
Independence Seaport Museum
Penn's Landing, Philadelphia. Pa.
The Partnership for the Delaware Estuary's staff and Board of Directors invite you to the Experience the Estuary Celebration's reception, dinner and auction. Please join us to honor Carol Collier and Bob Tudor, who recently retired from the Delaware River Basin Commission. The PDE will honor both with its Delaware Estuary Jonathan Sharp Lifetime Achievement Award. This award recognizes people for advancing science and management of the Delaware Estuary and River Basin. Visit DelawareEstuary.org for tickets, sponsorship opportunities, and how to make an auction donation, or call (800) 445-4935 Extension 120.
October 9, 2014
A Green Town Meeting: Corbett, Wolf, and the Environment
Schuylkill Center for Environmental Education
8480 Hagy's Mill Road
Philadelphia, PA 19128
(t) 215.482.7300 x. 118
This fall, Pennsylvania voters will choose between Toms, the incumbent Corbett and the challenging Wolf. Will the environment play a role in the election? Is fracking an issue? Clean water? Trail networks? Green energy? Over Yards' beer, our panel roams the election's environmental landscape, trying to answer these—and your!—questions. Panelists (at press time) include Michael Krancer, Governor Corbett's first DEP chief, environmental attorney Robert Fox, and the Bicycle Coalition of Greater Philadelphia's Sarah Clark Stuart. Check our website for the final listing of panelists, and enjoy an evening of beer and politics. Co-sponsored by Yards Brewing Company




October 14-16, 2014
NJ Association for Floodplain Management (NJAFM) Annual Conference
Bally's Atlantic City
The New Jersey Association for Floodplain Management (NJAFM) annual conference is the premier floodplain management conference in the Northeast. With more than 40 speakers and several hundred participants, this is the conference that regional floodplain managers from the public and private sector plan to attend. In addition, many consulting firms and product vendors associated with floodplain management attend as well. The annual conference provides an opportunity for professionals in the fields of engineering, hydrology, geology, planning, code enforcement, floodplain management and emergency management to participate in Plenary Sessions and concurrent technical sessions on a broad range of relevant topics. The conference also includes a number of training opportunities and networking events. The conference includes a moderated Cracker Barrel session on a wide array of topics on the evening of October 14; a full conference program on October 15; a half-day program on October 16; and a proctored Certified Floodplain Manager (CFM) exam on the afternoon of October 16. In addition, we are fortunate to have David Miller, Associate Administrator of FEMA's Federal Insurance and Mitigation Administration, as the Keynote Speaker on October 15. Over the past 10 years, NJAFM has worked diligently to train and educate municipal officials and residents, to advocate for sound floodplain management policy, and to mitigate the adverse impacts of storms and floods. While we have made significant contributions to improved floodplain management over the past decade, much work remains to be done. This year's conference will provide an opportunity to review the progress we have made, identify the ongoing challenges we face, and to focus on the important work at hand. The conference will feature a wide range of presentations and information regarding the ongoing recovery from Hurricane Sandy, as well as a host of technical presentations regarding pre-and post-storm planning, flood mapping, regulations, code enforcement, flood insurance and hazard mitigation. Check the NJFAM conference web site at www.njafm.org for information on abstract submissions, exhibitor and sponsorship opportunities and more!

October 14-17, 2014
Methodology for Delineating Wetlands
8:30 a.m. - 5 p.m.
Basking Ridge, NJ
Learn the methods of the experts! This four-day course will introduce you to delineating wetlands using the Federal Interagency Wetland Delineation Manual, which is required for use in New Jersey. Techniques taught will also be applicable to individuals interested in using the 1987 Corps of Engineers Wetland Delineation Manual. Learn how to recognize key indicators of wetlands (hydrophytic vegetation, hydric soils and other signs of wetland hydrology) and how to use them to follow the delineation methods outlined in the manual. Immediately apply criteria learned in the classroom while performing wetland determinations during team field exercises. More information
October 15, 2014
Introduction to Wetland Identification
In this one-day combination classroom and field course, a nationally recognized wetlands expert will review the skills you need to identify freshwater wetlands and their boundaries and introduce you to wetland plant identification and soil recognition. You will learn: Why wetlands are important; How they differ; What indicators are used for wetland identification, and About the current regulations in New Jersey.You'll also find out how to access and use government maps in order to identify wetlands on your property, on lands you may be interested in purchasing or on properties on which you conduct environmental, landscaping or other site development or remediation work. You will also get a simple introduction to the practice of wetland delineation (the technical skill of determining a wetlands precise boundaries) --- all in one day!
More information here.


October 21, 2014
NJDEP Case Study Training for LSRPs
New Brunswick, NJ (Rutgers University – Douglass Campus Center)
This interactive one-day workshop will engage Licensed Site Remediation Professionals (LSRPs) and other environmental professionals to work through a typical Site Remediation Program (SRP) Case starting with an ISRA triggering event, through all the phases of remediation (PA/SI/RI and RA), including applying for and implementing a remedial action permit and culminating in the issuance of an RAO. More information: http://www.cpe.rutgers.edu/courses/current/en0514ca.html
October 18, 2014
Unlocking the Mysteries of Mushrooms
2 p.m. – 4 p.m.
Schuylkill Center for Environmental Education
8480 Hagy's Mill Road
Philadelphia, PA 19128
(t) 215.482.7300 x. 118
Celebrated, coveted, feared, misunderstood; the relationship between mankind and fungi is as complex as it is ancient. As we unravel their mysteries, mushrooms can teach us about both ourselves and the ecosystems around us. The Mycopolitan Mushroom Company will explore the role of fungi in the forest and on the farm, offering tastings of the unique flavors and textures of the forest, and providing a look at native fungi in their habitat. Participants will take home living mycelium to grow mushrooms. More information available here


October 21-22, 2014
Delaware River Watershed Forum
Presented by the
Coalition for the Delaware River Watershed
Historic Hotel Bethlehem
in Bethlehem, Pa.
For information, contact Kim Beidler at 609-392-1182 of send email to
kim.beidler@njaudubon.org
.
October 27, 2014



October 29-30, 2014
Environmental Audits & Site Assessments
Cook Campus Center,

New Brunswick, NJ
This two-day course will help you navigate the legal and regulatory maze that surrounds industrial and commercial site assessments and property transactions. This class is particularly relevant to practicing LSRPs.
Discover how to conduct successful - and legally viable - assessments that are consistent with ASTM Standards and other applicable Federal and State regulations.
More information:
http://www.cpe.rutgers.edu/courses/current/el0102ca.html
For free publication, send your event info to: editor@enviropolitics.com


November 6, 13, 20 and December 4, 2014
ArcGIS Edition & Data Development
6 p.m. - 9 p.m.
New Brunswick, NJ (Rutgers University – Env. & Natural Resource Center Lab)
For those familiar with ArcGIS mapping software, including its toolbars and functions of Arc Map and Arc Catalog, this 12-hour evening program will guide you through real world editing and data management processes that are vital for intermediate GIS users to know. Includes a one-year free trial of ArcGIS 10 software. More information: http://www.cpe.rutgers.edu/courses/current/eg0915ca.html
November 6, 2014
Nature Preschool Open House
6:30 p.m. – 7:30 p.m.
Free
Schuylkill Center for Environmental Education
8480 Hagy's Mill Road
Philadelphia, PA 19128
(t) 215.482.7300 x. 118
Find out more about the Schuylkill Center's unique Nature Preschool for children ages 3 – 5. Visit preschool classrooms, meet the preschool's director, learn about our curriculum and schedule, ask questions, and pick up a registration packet. Bring your children – we'll have activities to engage them.More information available
here


November 13, 2014
Rapid Design and Analysis of Groundwater Remediation Systems
*New Course*
University Human Resources Training Center
27 Road 1, Piscataway, NJ 08854
This new one-day, "hands-on" computer workshop will appeal to LSRPs planning groundwater remedies and to engineers and environmental professionals who need an easy "non-modeling" way to calculate groundwater flow and aquifer response for a variety of common engineered systems, including extraction wells, collector trenches, slurry or sheet pile walls, permeable reactive barriers, and funnel and gate remedies. Attendees will receive instruction, and participate in a series of hands-on exercises, in which they will evaluate aquifer drawdown; optimize pumping well extraction rates; determine groundwater flow paths, velocities, and residence times; estimate system capture zone extent; create graphics with groundwater contours and pathlines; and examine other aspects that should be considered when designing, evaluating and optimizing groundwater remediation systems. Attendees will be introduced to a set of "calculators" that, with simplified site conditions, can serve as a screening tool to produce preliminary remediation designs.
More information:
http://www.cpe.rutgers.edu/courses/current/ew0110ca.html

December 3-5, 2014
HEC-RAS: An Intensive 3-Day Workshop
Cook Campus Center, New Brunswick, NJ
There's no question that HEC-RAS is an incredibly powerful tool but it's also no secret that it can be overwhelming, challenging and, in the hands of an inexperienced user, the end result could be numerical instability and severely flawed analyses. Can you afford that outcome on your projects?
To make sense of this program, we've recruited Joe Skupien, one of the most highly rated instructors in hydrology and hydraulics, to teach this 3-day hands-on training class. In this intensive three-day workshop, led by Joseph Skupien (an expert with more than 25 years of NJ stormwater management experience), you will get a comprehensive overview of the steady flow capabilities of the current version (V4.1) of the U.S. Army Corps of Engineers' Hydrologic Engineering Center River Analysis System program (
HEC-RAS
). More information:
http://www.cpe.rutgers.edu/courses/current/ew0401ca.html